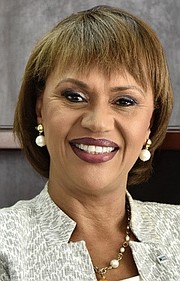 By YOURI KEMP
Tribune Business Reporter
ykemp@tribunemedia.net
THE incoming CEO of the Nassau/Paradise Island Promotion Board says The Bahamas is at the "top of the rebound curve" in terms of tourism led growth.
Joy Jibrilu, told Tribune Business she is excited to take up her new role at the Nassau/Paradise Island Promotion Board (NPIPB) after having spent a considerable portion of her career as a public servant, working with tourism and tourism related projects.
"Picking up the mantle, where Fred (Lounsberry) would have left off is just a tremendous feeling and I'm really looking forward to it," she said.
Ms Jibrilu worked as the director of investments from 2008 to 2014 before taking up the role of director general in the ministry of tourism (MOT) where she served until early this year.
She said: "At the Ministry of Tourism, a big part of what they did was marketing the destination. So I look at this as a pyramid and at the top of that pyramid you have the MOT whose job it is to promote the destination and building that awareness." This is what she feels makes her a suitable candidate to replace Mr Lounsberry as she has all of the background and experience to build on the post-pandemic tourism momentum the country is experiencing now.
Bahamas tourism is surging back with a vengeance, with the first five months of this year's tourism arrivals standing at 2.43m visitors, which means on average the country could get close to 6m tourists by year end.
Ms Jibrilu understands this and her experience in working with the NPIPB prior to assuming the top role gives her the added advantage to take hold of this momentum and steer it to even higher heights. "The next level of that pyramid, just as important, is the need now to bring the spotlight to our resorts, our hotels, and to be able to focus just on that. That's a gift and that's what has me excited to do what I really love doing, what I'm passionate about doing and to add to everything that has already been started."
Ms Jibrilu added: "One of the things I bring to the table in my new role is that I was a huge part of the strategy that went into place looking to us rebounding and all of the forecasts showed that The Bahamas was going to be at the top of that rebound curve. All the indicators were in place, so the strategy was how do we capitalize on that?
"While the Minister for Economic Affairs has said it is revenge tourism, and I understand what he's saying, everybody wants to travel and everyone feels as if they have been locked down and deprived of what they loved doing during the course of the pandemic and now they have the urge to do things they perhaps put off and now want to take advantage of and do."
Vowing to be "aggressive" with the campaigning of Nassau and Paradise Island Ms Jibrilu wants to accentuate the strongest points of the destination, like ensuring that potential visitors know that there are a "multiplicity" of resorts to choose from, from the mega resorts like Atlantis and BahaMar to the smaller ones like the Sandy Port Beach Resort, also that along with these resorts there is much about Nassau and Paradise Island to experience.
 "There was an article in the news last week that talked about Nassau and Paradise Island being the foodie capital of the Caribbean. What a great reputation. And so when you look at all the offerings that we have, just from culinary tourism, and that's thanks to our hotel partners who are bringing on these huge culinary chefs. And all the offerings that we have, these are the things that we're going to capitalize upon, and take advantage of so that we see this growth sustained and continued," she said.
Taking over the helm of the NPIPB is going to present itself as a challenge considering the board sustains itself by raising money from its hotel membership, something which Ms Jibrilu acknowledged as a challenge: "The National Paradise Island Promotion Board would have taken a hit in 2020 and 2021, but we're seeing such a strong rebound," she said.
 "Our hotel partners are reporting not only great occupancies, but also really, really strong, average daily rate and that is so important. So, we're rebounding, and we are rebounding well, and I think with every other industry around the world, coming out of the pandemic, you have to adjust and you're going to have to do what needs to be done until the rebound is completed.
"But I'm very, very positive and feel that the NPIPB is in a good position. It's in a healthy position. And I think all that's due to really sound fiscal oversight during the pandemic that would allow them to get to this point, and to the point where we could recover."