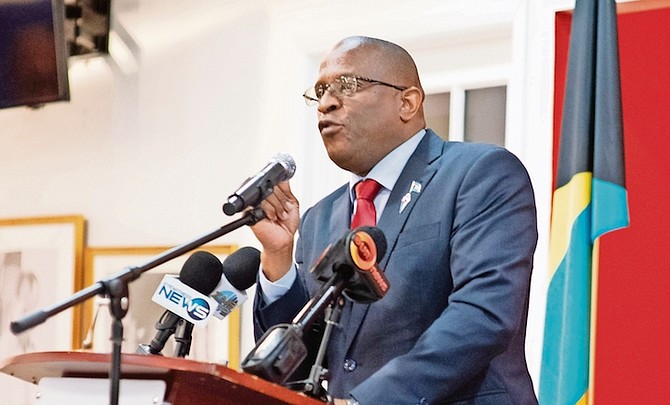 By LETRE SWEETING
FREE National Movement leader Michael Pintard is disappointed that the government has not prioritised regulating the use of medicinal marijuana.
The move he said would open the door to a new industry in the country.
During a press conference yesterday, Mr Pintard addressed the issue of the government's delay in bringing marijuana legislation to Parliament.
Mr Pintard said he was concerned that the government, having taken a position while in opposition on this matter, seemed to be having difficulties going through the pieces of legislation that were already left in place, saying: "We are uncertain when it will come."
He added that in stating this piece of legislation should be a priority, especially because people who have been convicted of possession of small quantities of marijuana should not continue to have criminal records.
He made the remarks yesterday at the FNM's headquarters on Mackey Street.
"We believe that it is absolutely important for us not to criminalise persons who are caught with small amounts of cannabis. We believe that there are alternative sentencing mechanisms that are already in place - counseling, for treatment, for community work, etc.
"We should expunge all of those records. We raised this issue during the exercise where the government sought to expunge records of persons convicted of simple COVID offences, the opposition fully supported that move. We also thought that it would be appropriate to at the same time expunge the records of persons found with small quantities of marijuana," he said.
"We had those discussions through the marijuana commission consultant, widely with the public and we have spoken with other stakeholders inclusive of the faith-based organisations and other stakeholders," Mr Pintard said. "The Attorney General was the most bullish in wishing to delay it to incorporate it in, as he puts it, the legislation related to the cannabis industry and I suspect restorative justice. We are disappointed that this was not acted on and given the timeline that this government operates on, we are uncertain when it will come."
Mr Pintard said he plans to hold the government accountable in addressing this issue before the end of this year.
"Our young people deserve an opportunity, all the Bahamians deserve an opportunity to travel with a clean police record in order to go on a job and earn a living for their families."
In addition, Mr Pintard said that the marijuana legislation is an overdue piece of legislation that can open up tremendous possibilities in agriculture for The Bahamas, with the industrialisation of the non-stimulant industrial hemp.
"When we talk about legislation around cannabis and industrial health, we know that there is a multi-billion dollar industry that is derived from the cultivation and processing of industrial hemp.
"What is required is for the government to engage the various stakeholders who've previously been in discussions with the Free National Movement and to see whether or not any sensibilities would have changed over the course of the last several months? So again, we support consultation. What we do believe is a waste of time, is for this government to take an inordinate, unnecessarily long period of time," he said.
Mr Pintard concluded his statements by adding that a wide range of agriculture and industrial products can be produced from this plant.
"The key is to make sure that we are not cultivating it, in the same environment, where for example, cannabis may be cultivated."
In January, Communications Director in the Office of the Prime Minister, Latrae Rahming, announced that the Davis administration was expected to bring legislation for a cannabis industry in the first quarter of this year.
In June, the government said it would introduce a "regulatory framework" for the cannabis industry and to expunge the records of young people convicted of minor offences related to use of the drug as part of its five-year legislative agenda.
Last week, Agriculture, Marine Resources and Family Island Affairs Minister Clay Sweeting said he is hopeful that the government's marijuana legalisation will be presented to Parliament before the end of the year.