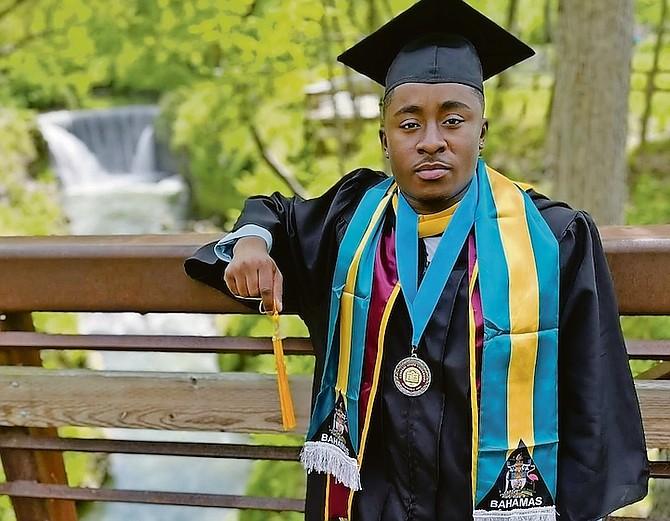 By EARYEL BOWLEG
Tribune Staff Reporter
ebowleg@tribunemedia.net
GIA Whymns is struggling to come to terms with the murder of her son Omar Davis Jr, revealing to The Tribune that the 21-year-old was badly beaten in the lead up to his shocking death.
In an interview yesterday at her home, Ms Whymns said she was heartbroken over the state in which she saw her son when she identified him at the morgue yesterday.
"They just showed me a picture in black and white," she said of the identification process.
Asked if she believed it was her son, the 38-year-old mother said: "I mean, yeah, but it's just how they beat him. They beat him and I never beat him. I never had to beat him and just to see my son look like that - that hurt me.
"That hurt me because why? I never had to go to the school. I never had to do nothing for him and they just beat him like that and kill him like that."
Ms Whymns reported her son missing on Monday, Inspector Makelle Pinder confirmed to The Tribune yesterday. However before an official missing persons bulletin could go out, Davis' partially decomposed body was found.
On Tuesday, the remains were found in a garbage bag inside the trunk of a vehicle near the Centreville Food Market.
Police said four males between the ages of 20 and 56 were in custody assisting police with their investigations.
At the scene of the discovery on Tuesday, Chief Superintendent Michael Johnson, officer-in-charge of the Criminal Investigation Department, told reporters that sometime after 5pm police received information of a vehicle that was parked in a bushy area just at the rear of the food store. More specifically it was near Centreville Caribbean Liquor Store.
He added when the police arrived, they noticed a black Honda Fit. All of the doors were closed and they became suspicious because there were some items in the vehicle that appeared to be that of a body.
The officer-in-charge explained they were able to open the vehicle and uncover what they found to be remains of a male in a garbage bag with multiple wounds to the head, face, and chest area.
The 21-year-old's mother recounted how the ordeal started with her son not responding to her text message.
"I text him because somebody was texting me," she said. "So, sometimes if I don't understand something or whatever I show it to him so he could break it down for me. I text him something that somebody send me and then I didn't get no answer – that was like 1. So, I knock off – I reach home like 6 o'clock. His little brother say 'Mummy you know where Omar is? You hear from Omar. I been texting him and calling him all day – say he ain't answering me'. I said when last time you called him. He said 3:30 and no tick and that's not him because he always answer. No matter what he always answer – he always answers us.
"Even if he read it and you could see where the two tick, he'll just go get it come home with it."
She said on Monday night she continued to look out for her son and began making calls to see if any relatives or friends knew where he was.
"So I wake up around 3, I still ain't see him," Ms Whymns recalled. "So I jump and I get up on the phone. I called all the police stations. I call all the hospitals. I send people who I know who work there in accident and emergency to find out if y'all had any Omar Davis came in or whatever.
"So, when I wake up that morning I got up and jump in my vehicle. I pick up one of my friends and we just start riding.
"So my aunty said man everyone then knock off let's go. Let's go for a family search. Let's go see if we find a car or something because they say that's not him. He never sleep out. He will come home late and he will text me and say 'Well mummy, I right here coming soon' or 'Mummy, I sleeping by aunty'."
While trying to stay optimistic, Ms Whymns knew something had to have been wrong because her son has "never in life" not called her to inform her of his whereabouts.
"I was trying to keep the faith as I ride around looking for a car, but something deep down inside of me was saying he (was) hurt, but I never know that he would've been dead because that ain't him."
Her worst nightmare became reality when news broke that his vehicle had been found.
"I was on the phone. I see it on Eyewitness, they say a black Fit and then I had one of my other friends call me say 'Gia you see they say they found a black Fit?'
"I was in the area. I wasn't far. I ride there and when I ride there I ran straight there. I ran straight over by the scene and I was like oh, Lord, they killed my baby."
Davis recently graduated with a double degree from Central State University and a 4.0 cumulative GPA, according to a Facebook post back in May. He was supposed to start an internship with audit firm Deloitte in Atlanta.
Quintina Jones, his aunt, described him as the glue that kept both families together.
"Fun and an all-around great person," and "very career driven" was how she described him.
"There's no words that could explain," she said. "I mean we don't know like what he could have done so wrong for them to treat him the way that they did. To go like that (and) to be put in a back truck in a bag is just - I don't know."
Davis was trying to excel above the odds. While alive, he spoke openly about how he grew up in Kemp Road and that his father was murdered.
"I mean it just goes to show people have no remorse for life. He really tried. He really thought he was doing everything what supposed to be done in order to make it out," his aunt said.
Another aunt noted: "This also wake up the family to realise that the Bible is true. The enemy came to steal, to kill, and destroy.
"And it wake us up to realise that we need to stay focus. We need to stay grounded and rooted in the word of God and even to overcome this, but we believe that all things work together for the good of them that love the Lord."
Meanwhile, Central State University, his alma mater, sent condolences to the family and announced a candlelight vigil that took place yesterday.