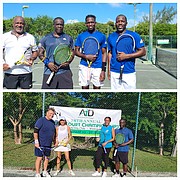 TWO championship matches were held this weekend as the 28th annual AID Clay Court Championships concluded at the Gym Tennis Centre, with two teams reigning supreme.
The first title, the mixed doubles was claimed by Tom McDermott and Sh'Ron Saunders who triumphed over the number one seeds, Bjorn Ferguson and Richette Percentie. The match went the distance 0-6, 6-4, 12-10.
In their road to the finals, Saunders and McDermott won 6-3, 6-3 over Stafford Armbrister and Valorie Rees. Saunders and McDermott won the championship match after roaring back to win in an epic battle and a thrilling match tiebreak.
The second title, the men's open doubles, was captured by president Perry Newton and Donte Armbrister, who won over Ken Kerr and Bjorn Ferguson 6-2 6-0.
Armbrister and Newton matched up for the first time in doubles and had great results.
Donte and Perry advanced to the finals with a win over Godfrey Virgil and Kevin Major Sr 6-1, 6,1.
Armbrister and Newton displayed a dominant performance, not dropping a set all tournament long.
Three more titles are waiting to be claimed. The men's jr vets singles will be decided in the final match between Scott Reddick and Harrington Saunders on Thursday.
The men's open singles and junior vets doubles are currently underway.
On Saturday, Tshaka Symonette won 6-0, 6-4 over Ken Kerr in the men's singles and Timothy Dames and Eugene Gibson advanced in jr vets doubles over Julian Robinson and Chigoze Ijeoma in a walkover. In the men's singles quarterfinals, Bobby Chen will take on Donovan Ingraham, Scott Reddick will face Tshaka Symonette, Dentry Mortimer will take on Ryan Fox and Anthony Munnings will face Nkosi Symonette.
The Bahamas Lawn Tennis Association (BLTA) extends congratulations to all the champions, runners up and participants. The tournament referee is Mickey Williams, assisted by Everette Munroe.