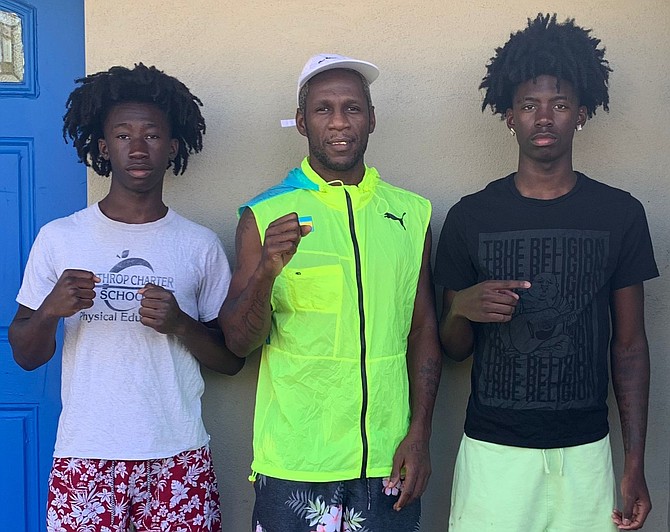 By BRENT STUBBS
Senior Sports Reporter
bstubbs@tribunemedia.net
THE Boxing Federation of the Bahamas, in its bid to expose the next generation of amateur boxers to international competition, will be taking a five-man team to the High School/Junior Championships in George Town, Guyana.
The team, headed by federation president Vincent Strachan, will be leaving on Wednesday for the competition that will run through August 29.
However, Strachan said they are still appealing to the public for their financial support to ensure that every member of the team gets to travel.
Carl Hield, the country's most seasoned amateur boxer coming off a disappointing first round TKO at the Commonwealth Games in Birmingham, England, will be making his debut as the head coach of the team. He will be assisted by Vincent Deleveaux out of Inagua.
Selected to represent the country are Keano Cox, a 17-year-old out of Inagua, fighting out of the 132- pounds category; Andrew Curtis, a 15-year-old from New Providence in the 119-lbs; brothers Jaiden Young, a 17-year-old old in the 141-lbs and 15-year-old Jailen Young in the 125lbs, both out of Tampa, Florida, along with Elijah Smith, a 17-year-old Grand Bahamian in the 217-lbs category.
The event was postponed two years due to the COVID-19 pandemic, but Strachan said the federation is still appealing for financial assistance to defray the cost for the team because of their long stopovers and night over in Trinidad, in addition to other factors associated with team travel.
"We are just waiting on some financial assistance from the Ministry of Youth, Sports and Culture to assist us," Strachan said.
"The initial situation we were faced with is one of the boxers didn't have a visa.
"The team won't be able to come back through Miami, so it's easier to come back through Cuba," Strachan said.
"Three members of the team, brothers Jaiden and Jailen and Carl Hield, will be returning to Miami."
Strachan said he's confident that the team will do very well. "The only team I think we will have problems with is the host country, Guyana," he said. "They have been training and competing in-house with boxing matches every two weeks. That is what we were not having.
"But we are going there with confidence and I believe we will do very well. We have very high hopes for the two boxers in Tampa because although they are very young, they are elite boxers, so we're looking forward to their transition to the senior team, at least one of them next year. We are excited about the prospect of what is to come."
Right after this event, Strachan said the federation has three more events to send teams off to compete. He noted that if they can secure the funding for the teams to travel, it would bode well for the future development of the teams.
"Our senior boxers, who competed at the Commonwealth Games, Carl Hield and Rashield Williams, hadn't competed in about 10 months and that really paid a major disadvantage," he said.
"So if you don't compete, it will be a struggle against the teams who are competing on a regular basis."
After a two-year hiatus of taking a junior team off to compete, Strachan said this will be a good indication of where the programme is and what they need to do to improve on the performances of the boxers as they look ahead to the future.
While the team is scheduled to leave at 7am Wednesday on Bahamasair and make a stopover in Trinidad before heading to Guyana, Strachan said they will return with a stopover in Trinidad & Tobago.
The team will split up with those heading to Miami and the rest going through Cuba before coming home.