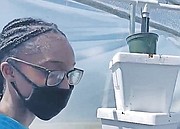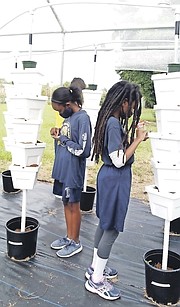 GRAND Bahama's Bishop Michael Eldon School's vertical hydroponics garden project has been named as one of five global winners of the Foundation of Environmental Education GAIA 20:30 Biodiversity Campaign Best Practice Competition.
Cyprus, Germany, India, and Spain were the other winners.
The competition was organized by FEE's Learning About Forest (LEAF) programme.
The Bahamas Reef Environment Educational Foundation (BREEF) is the official FEE representative for The Bahamas and manages the Eco-Schools Bahamas and Young Reporters for the Environment programmes.
Cheng Bee Selim-Dela Pena, BMES eco-schools coordinator, said: "I am grateful for our BMES achievement. Thanks to the ever-supportive administration - Mrs Sheryl Wood, our principal, and her team, all the organisations who have supported our school throughout these years in our journey as an Eco-school, GEF-SGP, Mr Deon Stewart for assisting us with our grant, Keep Grand Bahama Clean, Mrs Nakira Wilchcombe and her team, BREEF - Mr Kevin Glinton, and his team. Special thank you to the Ministry of Agriculture - Ms Jeri Kelly and her team, Ministry of Education - Mrs Sheryl Bowe, and her team for providing us with our first set of hydroponics. Most importantly, the students who have tirelessly worked in the garden and were able to connect with nature during the pandemic. Above all, thank the Almighty God for his divine providence and protection."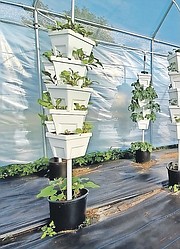 BREEF's executive director Casuarina McKinney-Lambert said: "Congratulations to these students from Grand Bahama and the other winners from around the world who developed great skills and knowledge on climate action and biodiversity conservation. Their work contributed to boosting biodiversity, raising awareness on ecosystem protection, and creating meaningful, long-lasting projects. Taking action for biodiversity is not only essential for sustaining healthy natural areas, but also healthy communities."
BMES student Trinity McIntosh stated, "The achievement is very important to the Eco-Schools Programme and me. This is because we've happily and diligently taken care of our hydroponics garden. Many of us gained the opportunity to not only practice but promote biodiversity within our school. Using all that we have learned, we can make a positive impact on our environment. This accomplishment is truly significant and encouraging."
Hydroponics team member Jamia William said, "The achievement feels amazing. It's an awesome feeling when something you put your all into gets recognized for something great. It also inspires us as a club to keep doing what we're doing because our hard work is paying off and it motivates us to do better."
BMES student Brianna Bowe added: "Working with the hydroponics garden every single day brings me great joy to work with the plants and with my classmates. This great achievement means a lot to me and the rest of the team because it will help us to continue working with the hydroponics garden and it will also encourage others to join in on the action!"
Kevin Glinton, Eco-Schools Bahamas National Operator, said: "The Bahamas is one of over 79 countries participating in FEE programmes. I am extremely proud of BMES and BREEF's 39 other Eco-Schools in The Bahamas that continue to show the world that we take environmental stewardship seriously."