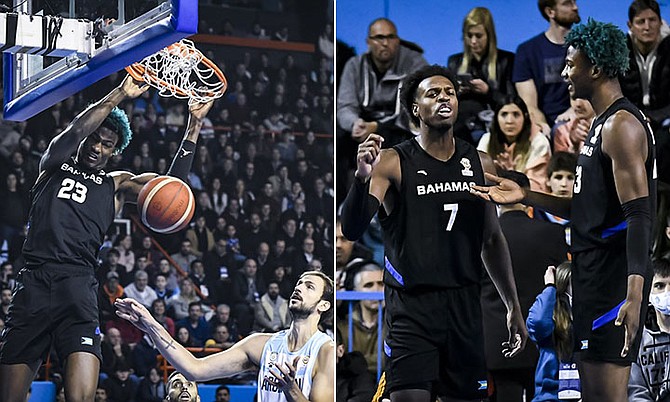 By BRENT STUBBS
Senior Sports Reporter
bstubbs@tribunemdedia.net
The Bahamas men's national basketball team didn't have any answers for Argentina as they pulled away in the second half for a 95-77 win for their second consecutive loss in five days in the FIBA Americas 2023 World Cup Qualifier.
The loss last night in the Polodeportivo Isles Malvinas arena in Mar del Plata, Argentina came after the Bahamas dropped an 86-81 decision to Venezuela on Thursday night at the jammed-packed Kendal Isaacs Gymnasium.
Charlotte Hornets' Kai Jones Jr had another productive game for the Bahamas with 16 points and six rebounds and two assists, Garvin Clarke Jr, making an impression off the bench at the guard position, had 12 points and four steals, Mychel Thompson Jr had 11 points and seven rebounds.
Grand Bahamian Chavano "Buddy" Hield of the Indiana Pacers, fouled out late in the fourth quarter after he ended up contributing 10 points, seven rebounds, six assists and two blocks.
The Bahamas, coached by Chris DeMarco, an assistant coach of the Golden States Warriors, also got nine points from Bradley Nairn Jr, eight points and four rebounds from Kentwan Smith and six points and five rebounds from Franco Miller Jr.
Argentina, coached by Nestor Garcia, had four players in double figures, led by Gabriel Beck with a game high 37 points and seven rebounds as they got their first win in this window after losing 99-87 to Canada on Thursday as well.
Argentina got out-rebounded 34-35, but they held a 13-21 advantage in turnovers over the Bahamas, who had 23 personal fouls, compared to 13 by their home court in the first of two meetings between the two countries. Their second game will be played on Sunday, November 13 in the Bahamas.
As the game got started, the Bahamas got a three-pointer from Mychel Thompson Jr, a dunk from Kai Jones and a lay-up from Lourawls 'Tum Tum' Nairn to force a 7-7 tie at the 7:32 mark. But Argentina reeled off the next 10 points to extend their lead to 17-7 at 3:37.
Jones broke the scoring drought with a jumper as the Bahamas went on a 8-4 to trim the deficit to 21-15 at the end of the period, thanks to a three-pointer from Garvin Clarke Jr and a lay-up from Rashad Davis.
Back-to-back three-pointers from Jones and Clarke Jr pulled the Bahamas within two, 23-21, within the first minute of the second period. Two minutes later, Buddy Hield's jumper tied the score at 26-all.
Argentina slowly pulled away, opening a 38-29 advantage before Kentwan Smith broke the Bahamas' next scoring drought with a three-pointer at the 5-minute mark to draw closer at 38-32. With 1:48, Jones got another dunk for a 43-40 deficit. A dunk at 1:01 by Jones pulled the Bahamas to a one-point deficit at 43-42 before Hield canned a jumper 30-seconds later to give the Bahamas a slim 44-43 lead. With five-seconds left, Hield got a block and Davis got the defensive rebound as the Bahamas held onto the advantage at the half.
At the intermission, Jones led the Bahamas with 13 points, Clarke Jr had 10 and Hield came through with eight. The Bahamas also had seven turnovers compared to eight by Argentina, who had a 16-14 advantage on the boards.
Gabriel Deck paced Argentina with 14 at the break.
Coming out of the locker room, the Bahamas didn't score until two minutes into the third on Miller Jr's lay-up for a 48-46 deficit. Argentina again made a run that was snapped by Kentwan Smith's dunk for a 57-51 deficit at 5:52. A minute later, Thompson Jr's jumper trimmed the lead to 57-53.
Argentina managed to pull away by 10, 66-56, with 1:57 on the clock, but the Bahamas made a gallant comeback as Clarke Jr got a steal and after he made the pass to Miller Jr, he pushed it to Smith for a three-pointer and a 68-59 deficit with 35-seconds left.
The Bahamas had one last chance before the final break to cut it down further, but Jones missed a three-pointer at the buzzer as Argentina held onto the nine-point lead going into the fourth quarter. As the fourth quarter unfolded, the Bahamas came out ice cold as Argentina took advantage to surge ahead 76-59 before Thompson Jr finally canned a turnaround jumper at 7:40 for a 76-61 deficit. The Bahamas didn't score again until 5:31 when Jones' dunk made it 78-63.
At 4:04, Bradley Nairn Jr canned a three-pointer off the glass for a 80-66 deficit and with 3:07 on the clock, Thompson Jr hit another three-pointer for a 82-69 deficit before Miller Jr's jumper drew it to 84-71 with 2:43 left.
Nairn Jr managed to get two consecutive three-pointers down the stretch, but it was a little too late as Argentina held on for the win.
The Bahamas will now have a chance to regroup before they play their next game in Panama on Thursday, November 10.