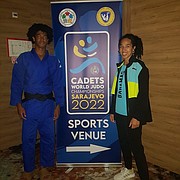 By BRENT STUBBS
Senior Sports Reporter
bstubbs@tribunemdedia.net
AFTER getting stopped in his only match at the Cadets World Junior Championships in Sarajevo, Bosnia and Herzegovina, Bahamian judoka Xavion Johnson said he's even more committed to making it on the international level.
Johnson, 16, travelled to the championship with Cynthia Rahming, the top Bahamian judoka, as his coach. He fought Arslan Mulalic of Bosnia, but got stopped in less than two minutes in the first round because of penalties in the under-60 kilogram class.
"I was disappointed because I felt I could have performed much better than I did," said Johnson on his return home. "But I am even more determined because of the loss to continue to compete in the sport. This loss has inspired me to want to go out there and continue to work harder."
The championships, according to Johnson, was very competitive. It ran from August 24-26.
"There was over 500 competitors there. Just about every country was represented there," Johnson said. "I was glad that I was able to represent the Bahamas. I'm disappointed that I didn't perform as well as I expected, but I will be back."
With Rahming in his corner, Johnson said he felt at ease because she was able to guide him along the way and ensured that he did what he needed to do to be competitive in the match. Rahming was coming off her appearance with Andrew Munnings at the Commonwealth Games in Birmingham, England.
"She has really motivated me," Johnson said.
This was Johnson's first appearance at the championships and his second LJF competition, which goes towards his ranking.
"Xavion is a promising athlete that has the drive and skills to reach his achievable goals within the sport," Rahming said. "He competed against Bosnia and Herzegovina, the host country and gave a strong match.
"He was ultimately penalised on tactical errors, but was definitely stronger and more technical than his opponent, which means he was just out-experienced."
Based on his performance, the 6-foot Johnson said he plans to move up to the 66kg class where he feels he can be more effective. "Next year, I'm planning to move up in weight class because I know I can be bigger and stronger and perform much better," Johnson said. "I'm looking forward to it because I know I have the potential to go very far in this sport."
Having got involved in the sport because he likes seeing how competitive the judokas are, Johnson said his goal is to become the first Bahamian to win both the Pan American and Olympic Games gold medal.
"I know coach Cynthia Rahming is aiming for the same thing and she is doing very well in the sport, but if she doesn't do it, I am aiming to do it," Johnson said. "I feel I have the potential to be a champion at that level."
Prior to going to the Cadets World Junior Championships, Johnson competed in two tournaments in Fort Lauderdale, Florida, in July. He earned a silver and bronze medal in one and got seventh in the other.
"In that tournament, I competed in seven events," Johnson said. "I think this is my best year ever. It was good to get in those matches because it really helped to prepare me for the competition at the Cadets World Junior Championships."
In April, Johnson also competed in the Panamerican – Oceania Junior Championships where he lost to American Christopher Velazco and at the Panamerican – Oceania Cadets Championships where he was defeated by Australia's Jules Aiberti.
He also participated in the Nick Goodly Cup, USJF and USJA Nationals, the US Open and the ATIA Nationals. In total, he did about 35 matches and posted 27 victories.
His proud mother, Ordain Moss, said although it appears that her son had an active year, she noted that he's still fighting considerably less than other world fighters, but he is certainly holding his own.
"I am quite pleased with where I am right now," said Johnson, a member of the Eastwood Judo Club and an 11th grader at Capstone Academy. "I have some big plans ahead of me and I am looking forward to accomplishing those feats."