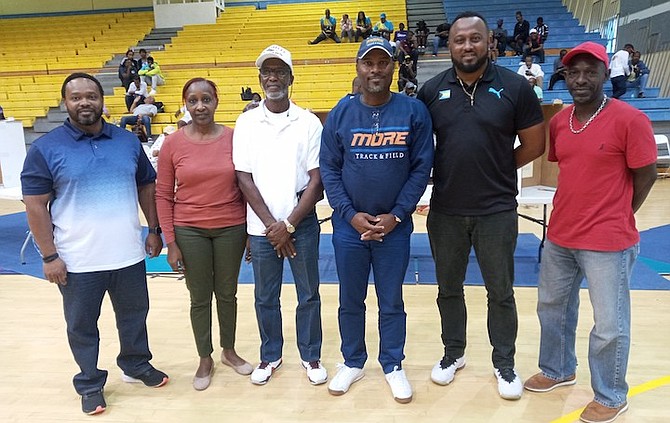 By BRENT STUBBS
Senior Sports Reporter
bstubbs@tribunemedia.net
AFTER an intense campaign, Drumeco Archer was returned on Saturday as president of the Bahamas Association of Athletic Associations for the next four years, a term that will include the hosting of the 50th CARIFTA Games and the return of the World Athletics Relays in 2024.
Continuing what he already started, Archer will serve with Foster Dorsett as his first vice president, John Ingraham from Grand Bahama as second vice president, Laketah Charlton as vice president of finance, Pharez Cooper as vice president of business operations, Tito Moss as vice president of technical operations and sports journalist Sheldon Longley as vice president of public relations and marketing.
Joining the executive team as council members are Jason Edwards, the highest vote getter with 33, Mikhilo Strachan with 28, Grand Bahamian Dionne Britton and Eleuthera's Kennard Mackey with 27 each, Grand Bahamian Jason Larrimore with 26, Robert Ayton with 24 and Andrew Tynes with 23. The election was held in the Kendal GL Isaacs Gymnasium and was conducted by BAAA Chief Executive Officer May Miller, assisted by Belinda Wilson, John Pinder and Greg Burrows Sr. Pinder called it one of the most impressive elections he's seen performed in any sporting organisation.
President Elect
Campaigning under the theme: "The More Plan," Archer collected a total of 24 votes to beat out immediate past president Rosamunde Carey, who had 17 and Dawn Woodside-Johnson, who picked up seven.
"It's a sigh of relief, but I can tell you that we're focused on the prize and that is to grow the sport and to make the country proud," he said. "That means there has to be a collective effort for all stakeholders.
"I intend to work closely with the coaches as well as all of the administrators who make up this federation. I'm excited about the next four years. The previous four years, we've been dealing with a lot of challenges including COVID and Dorian and the likes. But we have an exciting season ahead of us."
With the CARIFTA Games coming back for the ninth time next year and the World Relays to follow in 2024 for the fourth time since its inception, Archer said the BAAA has an unique chance to showcase the Bahamas to the world, although many elected are serving for the first time.
In accepting her defeat, Carey said the coaches have spoken again and she will accept the defeat.
"We thought we had it, even up to last night, but you know what it is, it's an election and people say one thing and they do something else," she said. "But it is what it is. So we wish this new administration well because there's a lot of work to be done, but not just from the coaches' part of it, but with the athletes."
Johnson, whose campaign was on change, said there's no love lost as she congratulated Archer and his team.
"We thought we would have done better in terms of what the membership said they were going to do, but they have spoken and so we have to move on," she said. "Hopefully the BAAA can now unite and move on to the level that it should be. I will still be around to assist the BAAA in whatever needs to be done."
First Vice President
Dorsett emerged out front with 25 votes, followed by University of the Bahamas Mingoes' coach Ednal Rolle with 13, Olympian and World Championship relay medallist Carl Oliver with nine and former executive and coach Rupert Gardiner with two.
"I feel this position is right for me. I never left track and field. I always worked whether it was as a coach or BACO, I always worked with whoever was in power," said Dorsett, a former president and vice president.
"There's still a lot of work to be done especially with our Family Island development, which we are doing now with our talent search. But I also want to display the history of track and field in the Mall where we can showcase the sport to the Bahamas."
Second Vice President
Ingraham, the head coach of the Heats Athletics, went through with flying colours, soaring to the top of the chart with 31 votes. Former executive Ravanno Ferguson had nine and Sandra Laing came up short with eight. They were both Grand Bahamians who served in the past administration.
"It's a privilege to serve because track and field has always been my passion," Ingraham said. "I came from the lowest level and now I'm a part of the executive board. I really appreciate what the members did for me. Through God, we got it done."
Vice President of Finance
Charlton, a member of the Bahamas Association of Certified Officials, said she's very elated to be a part of the executive team. She won with 20 votes, holding off former sprinter and now announcer Philippa Willie, who had 13. Both Darius Ferguson and Shakena Demeritte had eight apiece.
"I will try to do my endeavour best to be as transparent as possible to ensure that all of the finances of the association are accounted for," she said. "Accountability and transparency will be my top priority for this association."
Vice President of Business Operations
Cooper got a landslide victory with 26 votes. His nearest rival was coach Cedricka Rolle with eight. Demaris Cash finished third with six. "First of all, I want to thank the coaches for their support. It's a good feeling to win a position from Grand Bahama," he said. "We have a lot of work to do and our goal is to put our best foot forward and get the work done that needs to be done."
Vice President of Technical Operations
In what came down to the wire, Moss held off Bernard Newbold 22-21 to claim the spot. Former Grand Bahamian 800m specialist Alexis Roberts had six.
"It's a privilege and an honour and I want to thank all who imposed their confidence in voting for me for this post," said the coach of the Red-Line Athletics Track Club. "It's a big position with a lot of responsibility, but I'm looking forward to getting on the ground and running."
Vice President of Public Relations and Marketing
Longley, the sports editor at The Nassau Guardian, won with 27 votes. Verna Bonaby had 12 and former sprinter Tanya Woodside ended up with 10. There was one spoiled ballot. Longley said he was ecstatic with the results.
"I want to thank the track and field family community for having the faith in me in getting the job done," Longley said "I intend on going in there and getting the job done as best as I can to get track and field back to where it used to be, to get it some stability in track and field and make it the number one sport in the Bahamas."
Sprinter Anthonique Strachan, the BAAA athletes' representative, offered her word of congratulations.
"Looking forward to working with you and everyone being transparent and making great change for athletes and coaches involved," said Strachan, who was added to the Legends Walk of Fame on Thursday outside the Thomas A Robinson Stadium along with quarter-milers Shaunae Miller-Uibo and Steven Gardiner.
"Please don't let me and you all argue."