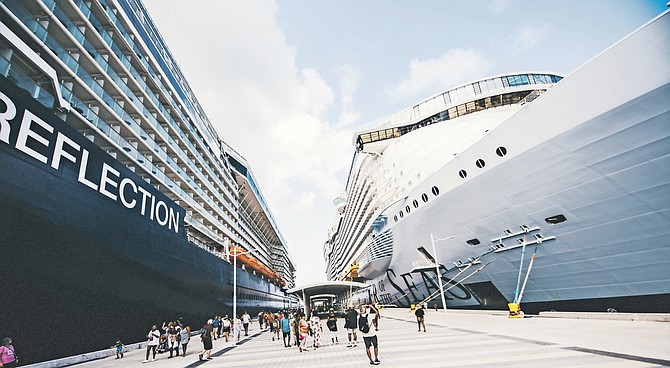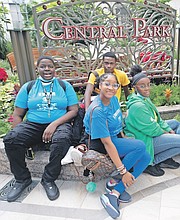 By LETRE SWEETING
lsweeting@tribunemedia.net
OFFICIALS yesterday praised the STEM for the Oceans programme that hosted 80 students and others on board the world's largest cruise ship, calling the initiative something that speaks to the bright future for Bahamian natural resources.
Royal Caribbean International partnered with the Pan American Development Foundation (PADF) as well as the Global Conversations Development Centre in The Bahamas to host 80 Bahamian students, ages five and older, as well as some teachers and government officials on board its Wonder of the Seas ship for the fourth year of its STEM for Oceans programme.
The Wonder of the Seas is the world's largest cruise ship at 362m long and 64m wide.
Environment and Natural Resources Minister Vaughn Miller expressed his gratitude to the cruise line and PADF for the programme.
"Thank you so much for helping to educate a number of our students and that speaks to the future. We would want them to be educated particularly in the sciences and as it relates to the environment so that we can maintain and sustain what God has blessed us with," he said.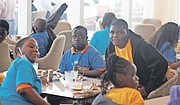 State Minister for Education Zane Lightbourne, who was also on board the cruise ship yesterday, said he has seen a recent rise of student interest in the areas of science, technology, engineering and mathematics or STEM.
"We noticed that a lot of our students' interests are in the sciences, math, technology and engineering and it's not only because they are high paying jobs, but this is a sustainable learning and education for our students," he said.
"We appreciate that this was the first port of call for the largest ship in the cruise industry and we look forward to those types of things that we can boast of. The fact that Royal Caribbean also houses two of our former students, who are now at captain level, for the region that is extremely significant for a small country," Mr Lightbourne said.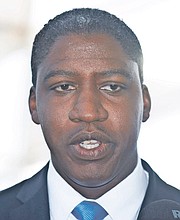 He said as the government is looking for more students to get involved in the maritime industry and sustainable learning and development, this programme is just one of many available to students focusing on STEM.
Ja-janaee Clarke, a 15-year-old student from CV Bethel Senior High School, said her experience in the programme has caused her interest in STEM to bloom.
"I was in biology and my biology teacher had brought it to our attention and I was like oh this seems cool to learn about the marine and water. I don't really like it, so I thought maybe I could grow to like it so this would be a good opportunity for me," she said.
When asked if her point of view of the subject has now changed about what she wants to do in the future, the student said, "Very much so."
Wonder of the Seas yesterday shared the port with Royal Caribbean's Harmony of the Seas cruise ship, the third largest cruise ship in the world. Two ships of that magnitude had never shared a port before yesterday and in addition four other cruise ships were in port yesterday as well.
Earlier this year, 30 Bahamian teachers were involved in week-long workshops focused on STEM.
The workshops were hosted by Royal Caribbean Group, PADF and The Caribbean Science Foundation.