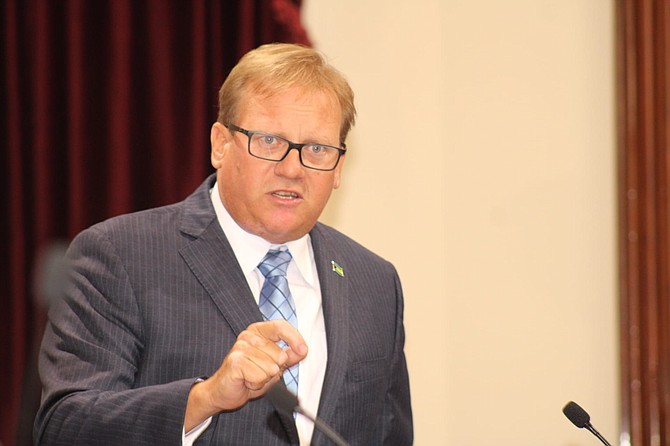 • 'No authorisation' given to SBF in e-mail exchange
• 1,500 'Bahamians' got assets out despite freeze
• FTX chief's arrest blows up 'collusion' allegation
By NEIL HARTNELL
Tribune Business Editor
nhartnell@tribunemedia.net
The Attorney General last night denied that he or any government official gave permission for FTX's now-arrested founder to violate a freeze order by returning $100m in assets to 1,500 purported "Bahamian" clients.
Ryan Pinder KC, in response to Tribune Business inquiries, said "no authorisation was given by any party" after an e-mail exchange between himself and Sam Bankman-Fried revealed the latter sought his go-ahead to "open up withdrawals for all Bahamian customers" just hours before the Supreme Court ordered FTX's local operations be placed in provisional liquidation.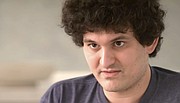 The documents, which emerged in the Delaware bankruptcy court around the same time that Mr Pinder and the Government were last night announcing Mr Bankman-Fried's arrest pending extradition to the US, disclose the Attorney General's demands of the latter for information on FTX's financial health and solvency so that he could properly brief Prime Minister Philip Davis as the crypto currency exchange was imploding.
The FTX founder, in an early morning e-mail at 2.27am on Thursday, November 10, gave a now-typical apology for "this mess" and promised the crypto exchange was "deeply committed" to The Bahamas. He then revealed that the crypto exchange had separated all Bahamian client assets from those of other customers, and said it was "the very least of our duty to the country" to give them preferential treatment by returning their funds.
"We are deeply grateful for what The Bahamas has done for us, and deeply committed to it. We are also deeply sorry about this mess," Mr Bankman-Fried told Mr Pinder. "As part of this we have segregated funds for all Bahamian customers on FTX.
"And we would be more than happy to open up withdrawals for all Bahamian customers on FTX, so that they can, tomorrow, fully withdraw all of their assets, making them fully whole. It's your call whether you want us to do this, but we are more than happy to and would consider it the very least of our duty to the country, and could open it up immediately if you reply saying you want us to. If we don't hear back from you, we are going to go ahead and do it tomorrow."
There was NO EVIDENCE presented that Mr Pinder, or any Cabinet minister or government official, gave Mr Bankman-Fried permission to act and the FTX founder duly proceeded to do as he pleased - as the e-mail warned. The early morning message was also copied to Allyson Maynard-Gibson KC, the former attorney general and minister of financial services and investments, who is FTX's Bahamian attorney.
The e-mail exchange between Mr Pinder and Mr Bankman-Fried was revealed by John Ray, the latter's replacement as chief executive for the 134 FTX entities currently in Chapter 12 bankruptcy protection in Delaware, as part of legal filings responding to demands by the joint provisional liquidators for FTX Digital Markets, the Bahamian entity, that their access to the company's cloud-stored books and records be restored (see other article on Page 1B). 
It also reveals for the first time the amount of funds withdrawn from FTX, and number of clients who benefited, with asset returns occurring for more than an entire day in defiance of the Supreme Court's November 10, 2022, freeze order and appointment of the joint provisional liquidators.
Mr Ray, noting that withdrawals from the crypto currency exchange's platform had been suspended from November 8 as a result of its multi-billion dollar liquidity crunch, said Mr Bankman-Fried and fellow FTX co-founder, Gary Wang, "were in close and frequent contact with the [Securities] Commission and attorney general throughout the week" leading up to the collapse.
Referring to the November 10 e-mail about preferential treatment for Bahamian clients, Mr Ray alleged: "Debtors' investigation to date shows that Mr Bankman-Fried did open withdrawals on the FTX.com exchange for certain customers for a period of approximately 25.5 hours, from 10.30 am on November 10, 2022, to noon on November 11, 2022, during which time nearly $100m in crypto currency was withdrawn by approximately 1,500 individuals and entities purporting to be Bahamian customers for Know Your Customer (KYC) purposes.
"No other customers of FTX entities were given such an opportunity for preferential treatment. Notably, the opening of this window took place after the commencement of the provisional liquidation proceedings in The Bahamas and after US counsel was engaged to begin contingency planning for Chapter 11.
"The debtors continue to investigate the identities of those who received these withdrawals, including whether they actually satisfied applicable KYC and other legal requirements. The debtors reserve all rights with respect to such withdrawals, including without limitation, the right to claw back any payments."
The identities of the 1,500 FTX clients who recovered their assets, in what are likely to be "fraudulent preferences" and subject to recovery by the Bahamian provisional liquidators, were not revealed. It is unclear whether prominent Bahamians, including politically exposed persons (PEPs) and those with the right family 'connections', are among the 1,500 although Mr Ray did not hide his scepticism that all were locals.
The documents were disclosed just as the Government trumpeted Mr Bankman-Fried's arrest by the Royal Bahamas Police Force in response to a formal US Department of Justice notice that it has filed criminal charges against the FTX founder and will likely seek his extradition. The move has been anticipated for weeks, with the US attorney's office for southern New York revealing that the indictment and charges will be unsealed this morning.
The Attorney General's Office, in a statement, said Mr Bankman-Fried was being held under the Extradition Act and, once the US submits a formal request that he be handed over, it will be processed "promptly pursuant to Bahamian law and its treaty obligations with the US".
Prime Minister Davis, in an accompanying statement, said the US extradition requests would not halt local probes into FTX's collapse by the Securities Commission and Royal Bahamas Police Force (RBPF). "The Bahamas and the US have a shared interest in holding accountable all individuals associated with FTX who may have betrayed the public trust and broken the law," he said. 
"While the United States is pursuing criminal charges against Sam Bankman-Fried individually, The Bahamas will continue its own regulatory and criminal investigations into the collapse of FTX, with the continued co-operation of its law enforcement and regulatory partners in the US and elsewhere."
Mr Bankman-Fried's arrest by the Bahamian authorities blows up a central thrust of Mr Ray's legal arguments - that Mr Bankman-Fried and Mr Wang are colluding with the Government and joint provisional liquidators. He used this to explain why he should not give Brian Simms KC, the Lennox Paton senior partner, and PricewaterhouseCoopers (Pwc) accountants Kevin Cambridge and Peter Greaves, to FTX Digital Market's cloud-stored records.
"It is a request for live, dynamic access that would be provided immediately to the Government of The Bahamas and to Messrs Samuel Bankman-Fried and Gary Wang, who are located in The Bahamas and working closely with Bahamian officials. The debtors simply cannot allow this to occur," Mr Ray asserted.
"The joint provisional liquidators' access to the debtors' cloud-based environments was limited on November 12, 2022, following substantial and unauthorised access, at a minimum, by Messrs Bankman-Fried and Wang at the direction of the joint provisional liquidators and the Securities Commission of the Bahamas."
The joint provisional liquidators could not be reached for comment before press time last night, although this newspaper was told they will respond to Mr Ray's latest filings imminently. Sources close to the trio, speaking on condition of anonymity as they were not authorised to talk publicly, said much of the FTX Trading chief's arguments were "clearly misguided on the facts" and branded him "a loose cannon".
For the Securities Commission's actions, in transferring FTX Digital Markets' assets to a secure electronic wallet under its control, were approved by the Supreme Court on November 12, 2022, amid fears that the crypto exchange was exposed to hackers and they could be stolen/lost.
And the regulator, one day previously, had shut down the withdrawal of FTX Digital Markets client assets while warning that such payouts were "voidable preferences" that the joint provisional liquidators will seek to recover. Mr Bankman-Fried previously identified the Securities Commission, FTX's Bahamian regulator, as the party he approached to "open up withdrawals" for Bahamian clients rather than Mr Pinder.
He added that the regulator did not respond either way, and he went ahead as planned in returning funds and assets to the crypto exchange's local and resident clients in a bid to ensure no angry customers were pounding on his door.
The e-mail exchange between Mr Pinder and Mr Bankman-Fried covered a three-day period leading up to FTX's implosion, and the provisional liquidation of its Bahamian subsidiary. The Attorney General, on Tuesday, November 8, conceded that it was "a hectic time" as he requested that the crypto exchange's founder provide more information on the soon-to-be-aborted acquisition by rival Binance.
Mr Pinder followed up the next morning with a detailed series of questions to FTX executives, Dan Friedberg and Can Sun. "As I understand the structure, FTX.com (the entity subject of the Letter of Intent with Binance) is the trading platform and exchange operations, and in a corporate structure separate from FTX Digital Markets, the Bahamian-licensed entity," the Attorney General wrote. 
"FTX Digital Markets, however, is in a corporate structure with Alameda Research, who is an upstream shareholder of FTX Digital Markets. We are mindful of the balance sheet exposure that is reported for Alameda to FTT [FTX's own digital token] whose value has collapsed in the open market.
"As such, the Government of The Bahamas would like to ask some questions, and get an update on the current situation. I will be briefing the Prime Minister later today. Can you please assist with a briefing update as well as addressing the following questions." These included whether a "decision" had been made on FTX Digital Markets' operations in The Bahamas, and if the Securities Commission had been fully briefed on the situation.
He also asked if Alameda Research, Mr Bankman-Fried's trading arm, can "survive the current market turmoil" and if any entity in FTX Digital Markets' corporate structure - including Alameda - had "leveraged or exposed client assets in any way and for any purpose". Mr Pinder also sought details on FTX's "ongoing commitment to The Bahamas".
Mr Bankman-Fried responded on the afternoon of Wednesday, November 9, via a general statement that provided no answers. "Things moving quickly. I can't give as confident answers as I'd like to all of those," he replied. "My currently only priority is doing right by customers, and doing whatever I can for that. Right now that means prioritising, above everything else, getting funding to fill the liquidity gap so that all customers can be made liquid."
Mr Pinder responded inside two hours, reiterating his demand for answers "so I can provide the Prime Minister an update". They were finally provided by Mr Bankman-Fried on Thursday, November 10, just hours before the Securities Commission petitioned the Supreme Court to place FTX Digital Markets in provisional liquidation.
Assuring that he was "deeply sorry for ending up in this position in the first place", the FTX founder said: "Right now we are focused on one thing: Making customers whole. We are focusing exclusively on doing that this week. We are ceasing all non-essential operations beyond that. I am doing everything I can to try to do right by our customers.
"I have not briefed the Securities Commission. I would be more than happy to have a phone call with you, the Prime Minister and the Securities Commission in the next few days to give a thorough overview of the situation. I am cautiously optimistic that we will be able to survive the turmoil and have enough liquidity for all customer withdrawals, and that is my sole focus this week. I will keep you guys updated." That optimism proved to be seriously mistaken.