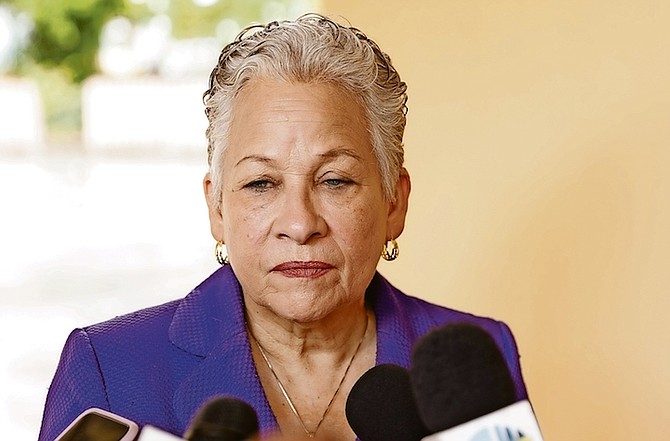 By LETRE SWEETING
lsweeting@tribunemedia.net
EDUCATION Minister Glenys Hanna Martin said she hopes to start the new year by testing students nationwide for any learning loss issues following the pandemic.
"For the new year's resolution, I want to see that we go into a real focused thrust in national development. In education, there's a lot of repair that needs to happen. A lot of resources are going to be necessary. So I'm hoping in the new year to get those resources," Mrs Hanna Martin said.
"That is why in January, we are going to do our testing for learning loss. This will help us not just understand what the learning loss was in the pandemic, which all research says was significant globally, but we also want to see whether there are other lingering historic learning issues with young people that we can target and help to get them on track with issues of literacy and numeracy," she said.
Dominique Russell, acting director of education, added: "It's (the learning loss testing) going to be online, so every child will be tested, and we will provide the support. The company, Renaissance Learning (an educational software company), will provide remediation opportunities for their children. So it's going to be cyclical, where, you know, we test and then we remediate.
"Once we discover where our children are struggling and where the remediation needs are, we're also training teachers providing training for those teachers so that they know how to provide the remediation opportunities," Mrs Russell said.
These comments came after the signing of a memorandum of understanding (MoU) between the Ministry of Education and Barry University, based in Miami, Florida. The agreement is a partnership with the international university to train teachers to provide better opportunities for special needs students.
Barry University will be the 37th institution to sign an MoU with the Scholarship and Educational Loan Division of the Ministry of Education and Technical and Vocational Training. Those who are selected will receive scholarships, as they will be participating in programmes for special education.
"The Education Act of the Bahamas provides under Section Eight, that the parents of children with disabilities shall take appropriate steps to see that those children are assessed as early as possible as to the extent and nature of their disabilities and be offered appropriate treatment. That's the parents. But it also puts on the minister, the minister responsible for education, that the minister shall take appropriate steps to ensure that children with disabilities are afforded equal opportunities and education," Mrs Hanna Martin said.
"Clearly the law of this country requires and it's an undergirding philosophical commitment of ourselves as a people, that children with special needs, will be given the same opportunities to develop their full potential as young humans," Mrs Hanna Martin said.
"This agreement, memorandum of understanding that we're signing with Barry University is very important, because it's a manifestation of the law. It is bringing to fruition our philosophical underpinning as a people. And this will have, once we begin to extend and build capacity, will have a tremendous impact on so many young people now, which we have to see falling between the cracks," she said.
"We believe that within 18 months to 24 months, you'll begin to see the rollout of special needs teachers who will be dispatched nationwide and be able to bring in their embrace, children that may be at this moment, off the radar for us," Mrs Hanna Martin said.