By BRENT STUBBS
Senior Sports Reporter
bstubbs@tribunemedia.net
"GOLDEN Girl" Pauline Davis lived out a 10-year plan of writing her own story with today's official release of her memoir entitled "Running Sideways."
The hardback novel was produced by Canadian based Bahamian author T.R. Todd and published by Rowman & Littlefield. A foreword was done by Lord Sebastian Coe, the president of World Athletics, and it was endorsed by multi-talented Lenny Kravitz.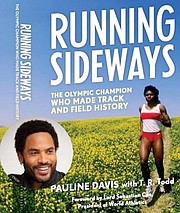 A number of Bahamians, along with four-time Olympic gold medallist Michael Johnson from the United States, two-time Olympic champion and former world record holder in the 100 metres Donovan Bailey from Canada, and two-time silver medallist Juliet Cuthbert-Flynn from Jamaica, made their contributions in the 304-page manuscript.
Publisher's Weekly praised the book and the story it tells of a young barefoot runner who had to save her shoes for school and church who went on to become a two-time Olympic gold medallist, the first to win individual gold in sprinting in the region and the first woman of colour to serve on the World Athletics Council.
For Davis, the sole purpose of writing the book was to "tell her story" so that no other Bahamian athlete would have to go through the mental stress, the pain and the agony that she had to endure over the four decades that she competed as a world-class athlete.
"Our athletes today are not as strong and they might not make it. They might be broken before they get to where they have to go," said the 55-year-old Davis, who won medals from the CARIFTA Games to the Olympic Games from the 100m to the 400m and as a member of the women's 4 x 100m relay teams. "So I really wanted to tell my story and I want my federation (Bahamas Association of Athletic Associations) to understand that you don't treat your athletes the way they treated me."
Over the past 10 years, Davis said she attempted to write the book, but because she got too emotional, she had to take a break. However, she said she met Todd and after they collaborated, the wheels were reinvented.
Now, hot off the press, Davis said she's thrilled about the final product.
"Both Jeff (Todd) and I did a phenomenal job. I call Jeff the greatest ghost writer ever," she stated. "He had to hold my hand and guide me. When I was having my breakdown, he was able to encourage me.
"I told him that he was a Godsend. That's why I met you a few years ago and God had it designed for you to write my book. So I'm just grateful and to thank God to put Jeff in my life to complete the book.
"Although it was released by the publisher on Wednesday, those persons who have ordered one, will get a notice from Amazon," said Davis of the book that is priced at $35 a copy. "For the Bahamians here, I will be having my official book signing on International Women's Day 3-6pm on March 8 at Goodman's Bay where it all got started for me. It's my roots."
In the book, readers will be able to find out about the humble beginnings of Davis to winning the medals for the Bahamas, her struggles with depression, her victimisation and most importantly her triumphs. "My story is one of hope. My story is to encourage them to make lemonade when they give you lemons," she said. "You just keep believing, keep praying and pushing and never give up.
"It's going to be a very uplifting story and people will be able to see how I was able to overcome. Yeah, you might be having some rough patches in your life, but you just have to keep praying about it and ensure that the people you have in your corner are people who are going to be there for you."
Having overcome so many obstacles in her life, including the loss of her two children in 2003 and 2005 where they died during childbirth, she was revived and Davis said she was able to endure so much that she could only look ahead to her future with enthusiasm after she was awarded the IAAF Lifetime Council Member Award in 2019 in Monaco.
"I'm the first black woman elected to that council and on top of that, I was able to put in a good body of work on that Council," she recalled. "A total of 214 countries voted to put me on that Council. I am the only living female and I'm the youngest ever to have received that distinguished award."
The good thing about the award was the fact that Davis achieved it after the BAAA decided not to nominate her for the position of a Council Member for the third time, having served in that capacity from 2007-2019.
To this day, Davis remains an advisor to the international track and field community. She lives in Nassau and serves as a senior official at the Ministry of Youth, Sports and Culture coaching some of the next generation of Bahamian athletes in her spare time.
Todd is an award-winning writer, journalist, biographer, and novelist with experience in Canada, the United Arab Emirates, and The Bahamas.
A former journalist at the Nassau Guardian, Todd's experience with The Bahamas stretches back more than a decade. He also served as the Associated Press correspondent for the country and covered multiple hurricanes.
Todd is the author of four other books, ranging from fiction to nonfiction. He has also published numerous articles on a wide variety of subjects.
Todd's work has appeared in newspapers across North America, including the New York Times, Huffington Post, Globe and Mail, and Toronto Star. He lives in Ottawa, Canada.