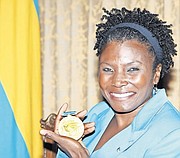 TO kick off World Athletics Women's Week ahead of International Women's Day and to #BreakTheBias by sharing the stories of inspiring women to create a bank of great role models for future generations, World Athletics President Lord Sebastian Coe speaks with two-time Olympic champion Pauline Davis about her book 'Running Sideways', which chronicles her inspiring journey from the ghetto to Olympic glory.
Born and raised in the poor neighbourhood of Bain Town in The Bahamas, she fought through poverty, inequality, racism and political machinations from her own country to beat the odds and become a two-time Olympic gold medallist, the first woman of colour on the World Athletics Council and an outspoken anti-doping advocate.
The hardback novel was produced by Canadian based Bahamian author T.R. Todd and published by Rowman & Littlefield. A foreword was done by Coe and it was endorsed by multi-talented Lenny Kravitz.
A number of Bahamians, along with four-time Olympic gold medallist Michael Johnson from the United States, two-time Olympic champion and former world record holder in the 100 metres Donovan Bailey from Canada, and two-time silver medallist Juliet Cuthbert-Flynn from Jamaica, made their contributions in the 304- page manuscript.
In celebration of Women's Day today, Davis is slated to hold her official book signing from 6-8pm on Goodman's Bay, the site where she said her formal training began to enable her to produce one of the most illustrious track and field careers in the history of the Bahamas. Davis earned two Olympic gold medals, one with the women's 4 x 100m relay team of Savetheda Fynes, Eldece Clarke, Chandra Sturrup and Debbie Ferguson-McKenzie in 2000 in Sydney, Australia.
The team also got a silver in the relay in 1996 in Atlanta, Georgia. Davis' other medal came in the 200m.
Over the past 10 years, Davis said she attempted to write the book, but because she got too emotional, she had to take a break. However, she said she met Todd and after they collaborated, the wheels were reinvented.
Todd, a former journalist at the Nassau Guardian, is an award-winning writer, journalist, biographer, and novelist with experience in Canada, the United Arab Emirates and The Bahamas.
Davis, 55, remains an advisor to the international track and field community. She lives in Nassau and serves as a senior official at the Ministry of Youth, Sports and Culture coaching some of the next generation of Bahamian athletes in her spare time.