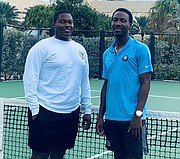 THE newly formed Island Tennis, headed by professional players Philip 'PJ' Major Jr and Kevin 'KJ' Major, are teaming up with Baha Mar to stage a tennis tournament for aspiring young players next weekend.
The tournament, designed for boys and girls between the ages of 14-18 years, is set for Saturday, February 19 beginning at noon. The cost is $40 per player with lunch and drinks included. There will also be a beginners kids clinic for players between the ages of five and 20. "We want to get tennis active again by getting the tennis community together in a tournament," PJ Major said. "Currently of late, there haven't been any tournaments for our juniors to come together and display some camaraderie.
"There's been nothing for them to do outside of travelling abroad to compete. We're hosting our first tournament, along with Baha Mar.
"Hopefully we can host more tournaments and continue to grow as we go."
Major said this is a perfect time for players who have an interest in tennis to come out and participate.
He noted that the players involved will be playing in a series of matches in a round robin format where they play a 10-point tiebreaker wherever necessary.
It''s going to be the same concept that Major Jr said he and other Bahamian players experienced when they were playing on the junior circuit.
He said they want to reconstruct that same type of atmosphere.
"We expect for the kids to come in and enjoy themselves as well as earn some points towards their UTR rankings," said Major, one of the top players in the country and a former Davis Cup participant.
"Depending on their UTR rankings, they will be able to play in certain tournaments in the United States and the Caribbean. So it's important for these players to be able to earn the rankings to move on."
Kevon Ferguson, now in his third year as the tennis pro at Baha Mar, said their property had started to entertain the players before the coronavirus pandemic struck in 2020, but now that the restrictions are being eased a bit, they are happy to welcome them back.
"I know there ain't that many places to play, especially with the NTC (National Tennis Centre) closed during the day, we are always open and we are encouraging anyone who is interested in playing tennis to come out," said Ferguson, who played with Major Jr.
Ferguson said he anticipates that the players will come out and just enjoy themselves in a fun environment that they hope to create for all those participating.
Interested players can register by emailing: islandtennismgmt@gmail. com or calling 467-2320 or 808-4633.