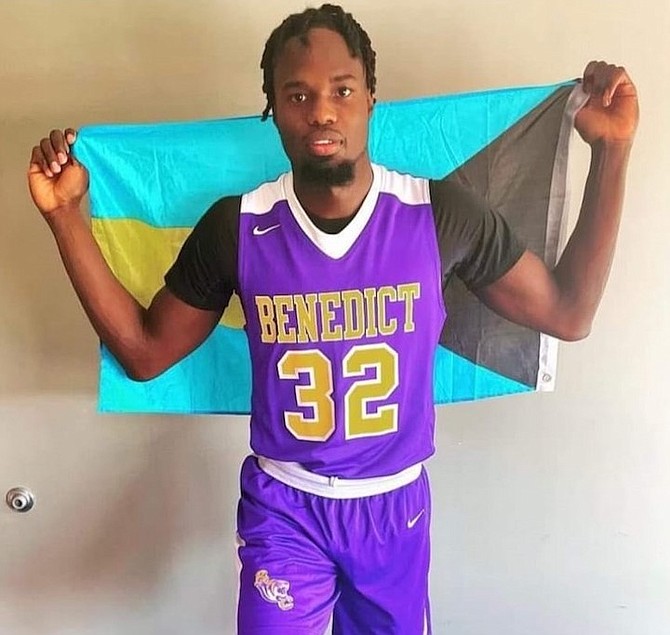 By RENALDO DORSETT
Tribune Sports Reporter
rdorsett@tribunemedia.net
MALACHI McCoy and his Benedict Tigers continue their win streak to highlight Bahamian players in NCAA Division II.
McCoy posted a team high 16 points and season high 15 rebounds in the Tigers' dominant 111-68 win over Edward Waters College on January 8.
It was their 10th consecutive win.
And it was his third consecutive double double, and fifth double double of the season as he continues to establish himself on both ends of the floor in his junior season.
The Tigers made a season high 16 three pointers, including McCoy's first three pointer of the season.
The Tigers improved to 11-3 overall and a perfect 7-0 in the Southern Intercollegiate Athletic Conference.
Led by McCoy, Benedict dominated on the boards, out-rebounding Edward Waters 59-35.
Benedict travels to take on Morehouse next Saturday. The next home game will be January 22 against Savannah State.
The junior forward is averaging a near double double in his third season with the Tigers at 10.2 points and a team leading 9.3 rebounds per game while shooting 56 percent from the field.
Lathaniel Bastian and the Angelo State Rams won their final non conference game of the season with an 80-78 win over UT Permian Basin on January 6.
Bastian was reinserted to the starting lineup and finished with nine points and seven rebounds in 22 minutes.
With the win, the Rams improved to 10-3 overall on the season, 1-1 in the Lone Star Conference.
ASU had a January 2 matchup against St Mary's postponed prior to their win over Permian Basin.
They will continue LSC play on January 13 when they face Midwestern State and cap a busy weekend against Dallas Baptist University on January 15.
Bastian is averaging 12 points and a team leading 7.8 rebounds per game with four double doubles in his first season with the programme.
Jonathan McFall and Slippery Rock University will have their next three games rescheduled.
A road game at No.10 ranked Indiana University is now scheduled for January 17, a home game against Clarion University is rescheduled to February 14 and another road game against California University will be played on February 21.
SRU will return to play when they host Seton Hill University on Saturday.
In his first year with the programme, the junior guard is second on the team in scoring at 17 points per game and third in rebounds at 6.1 per game.
He leads the team with 16 blocks, a 92 percent clip from the free throw line and 58 percent shooting from the field.