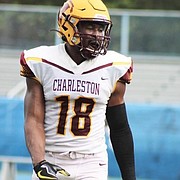 By RENALDO DORSETT
Tribune Sports Reporter
rdorsett@tribunemedia.net
THE latest prospect in the Grand Bahama to the University of Charleston pipeline has high expectations for his game at the next level of football.
Josh Saunders was profiled by NFL Draft Diamonds and discussed his prospects as he prepares to boost his profile ahead of the NFL draft.
A 6'2" defensive back that also doubled as a two-sport athlete with track and field, Saunders outlined what he hopes to bring to any prospective organisation.
"I believe that my ability to perform and play at a high level both physically and mentally allows me to be a strong candidate in the 2022 NFL draft. Some traits that place me at the top of the NFL prospect list are my athleticism, speed, aggressive play style, and high IQ of the game," he said.
"If I had to sell myself, I would start by saying that I'm a very hardworking and determined player that will come in and perform at a high level each and everyday on and off the field.
Saunders finished this past season with 18 tackles and three interceptions.
The Golden Eagles (8-2, 8-2 MEC) capped off their season with a sound 38-13 victory in the annual Kanawha Classic against the Yellow Jackets of West Virginia State.
Saunders began his Eagles career with 11 tackles and one interception as a redshirt freshman, prior to the COVID-19 shortened 2020 season.
"I first became interested in the game at the age 17, during my senior year in high school [at Liberty Christian Academy in Virginia]," Saunders said.
"Overcoming adversity is what defines character, what was the hardest moment in your life to overcome? The hardest moment in my life that I've had to overcome was dealing with the loss of family members while being away from home and attending school."
Saunders achieved great success individually in track and field but noted that he was drawn to the teamwork and camaraderie of football.
In 2019 he was the Mountain East Conference indoor long jump champion and was named First Team All-MEC Long Jump. In 2020, he repeated as MEC Indoor long jump champion (7.01m), First Team All-MEC Long Jump, and placed fourth at the MEC Indoor championships in the triple jump (13.87m).
Saunders looks to become the second Bahamian from Charleston to reach the National Football League, following Mike Strachan, who was drafted by the Indianapolis Colts in 2021.
"The best part of football is achieving team success and making memories with your teammates and coaches that helped each individual to accomplish goals," he said. "One thing about the University of Charleston is that its faculty and staff are very supportive of student athletes and their future endeavours."
NFL Draft Diamonds highlights players from small schools as they look to find a path toward professional football.