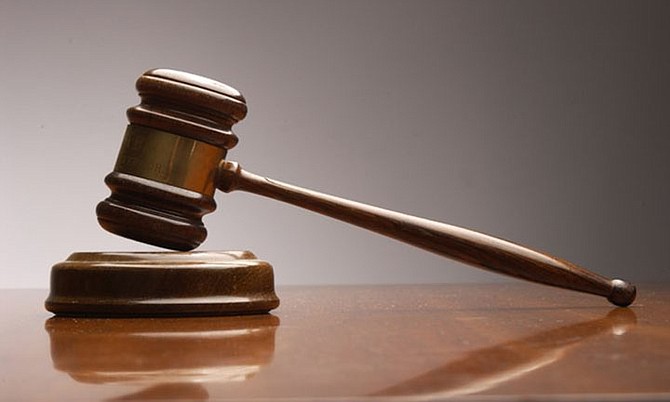 By PAVEL BAILEY
A MAN was ordered to attend counselling after he was charged yesterday with unlawfully carrying arms and brandishing a weapon.
Jermaine Smith, 24, appeared before Magistrate Algernon Allen, Jr, after he was arrested by officers in Carmen Close for brandishing a cutlass in the area on Monday afternoon.
Upon arriving on the scene after receiving a call on the matter, officers found the suspect armed with the cutlass at his waistline. The suspect complied with officers when he was told to relinquish the weapon and come with them to the East Street South Police Station.
In court, Smith pleaded guilty to the charges and accepted the facts stated by the prosecution.
He has three prior antecedents on his record, including an assault from 2019.
The accused's mother, Portia Denise Newbold, was also in court to speak on what she witnessed as his diminishing mental capacity. In her tearful address to the court, she claimed she no longer recognised the boy she raised and that the man before them was, "Not my son".
She recounted how on December 30 she took her son to the Fleming Street Clinic seeking help with his mental health, but upon returning to pick him up after licensing her daughter's car, he wasn't there. She also mentioned other incidents of his erratic behaviour such as when he assaulted his brother, who didn't press charges. She also mentioned a time when he packed up all of his and her belongings from their apartment in Skyview Close and said that they were leaving.
Ms Newbold said she has no idea what to do now and told the court before breaking down in tears again that her "son needs help".
After hearing the mother's statement, the prosecutor suggested to Magistrate Allen that Smith be enrolled in the Community Counselling and Assessment Centre programme on Collins Avenue. There the accused would receive general evaluation and anger management counselling in the government subsidised programme.
In a statement before the court, Smith said he just wanted to move on with his life and was hesitant to follow the prosecutor and his mother's suggestion to seek professional help. He stated that he thought, "It may make me worse."
In his ruling, Magistrate Allen granted Smith a discharge on the condition that he attends counselling at CCAC for six months. If he fails to do so he will risk custodial sentencing of two months in prison.
After what is deemed as successful participation in the course, he would be granted an absolute discharge. Magistrate Allen called on Smith to treat his mother with respect, saying she only wants what's best for him.
He is expected back in court on July 21.
In a separate case, another man was charged with assault with a dangerous instrument.
Rashad Nesbitt, 25, appeared before the magistrate after his arrest on January 6 for an alleged assault incident on Potter's Cay Dock.
The virtual plaintiff, Faith Ann Adderley, claimed Nesbitt had broken a glass bottle, picked up a glass shard and cut her on her left finger and abdomen.
Nesbitt pleaded not guilty.
He claimed he had never assaulted the plaintiff and that she had cut herself.
Considering his prior antecedent of assault, the prosecution suggested the accused wear an electronic ankle bracelet as he awaited his next court date. He is expected to report to the Potter's Cay Dock Police Station weekly every Monday, Wednesday, and Friday before 6pm. He also must report to either the police or court any time he goes out to sea to fish.
Under these conditions, the defendant was granted bail with two suretors at $5,000, but claimed he had no one to pay bail as his mother was out of the country. Nesbitt's next court date is set for February 10.