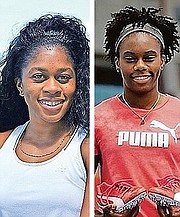 By BRENT STUBBS
Senior Sports Reporter
bstubbs@tribunemedia.net
AFTER their victories at the Bahamas Association of Athletic Associations' National Track and Field Championships over the weekend, TyNia Gaither and Devynne Charlton got fourth and fifth respectively in their return to the Wanda Diamond League on Thursday.
Gaither, the 29-year-old national 100m champion, moved up to the women's 200m where she placed fourth in 23.06 seconds, while the 26-year-old Charlton, coming off her national record-breaking performance, was fifth in her specialty event in the women's 100m hurdles in 12.65.
Gaither, a third-place finisher behind Shaunae Miller-Uibo and Anthonique Strachan in the 200m at the nationals, got left in the blocks, but she came off the curve and made up some ground on the home stretch.
The race came down to a photo finish as Great Britain's Dina Asher-Smith got the win over Switzerland's Mujinga Kambundi after they both clocked 22.37. Denmark's Ida Karstoft was third in 22.90.
With her performance, Gaither earned five points to join Miller-Uibo, American Tamara Clark and Poland's Nikola Horowska for ninth place in the Wanda Diamond League standings, while Asher-Smith surged out front with 20 points. Strachan is tied with Ivory Coast's Marie-Josee Ta Lou and Gambian's Gina Bass with four apiece.
Charlton, the World Championship indoor silver medallist, got the early lead in the 10 flights of hurdles, but mid-way into the race Olympic champion Jasmine Camacho-Quinn and the rest of the field surged ahead. While Camacho- Quinn went on to secure the win in 12.46 seconds, Nigeria's Tobi Amusan got second in 12.50,
American Nia Ali was third in 12.53 and Jamaican Danielle Williams got fourth in a season's best of 12.59.
Charlton's time was off her new Bahamian national record of 12.60 that she posted last Friday night at the nationals. Despite her finish, Charlton is now tied for second place with Camacho-Quinn with 16 points each in the Diamond League standings, which has Amusan on top with 22.
This was the eighth in the 12-race series for the Wanda Diamond League that began in Doha, Qatar on May 13 and will wrap up in Brussels, Belgium on September 2 before the finals take place in Zurich, Switzerland, September 7-8.
The next meet in the series will take place on August 6 in Silesia, Poland.
Charlton, now a grad assistant coach at the University of Kentucky where she's training under Bahamian coach Rolando 'Lonnie' Greene, is looking for her first global medal on the outdoor scene this year at the World Championships.
Gaither is expected to run the sprint double in Eugene with Strachan, while Miller- Uibo is expected to join them both in the 200m.
Miller-Uibo, however, will have her priority on the 400m where she was the reigning runner-up from Doha, Qatar in 2019.