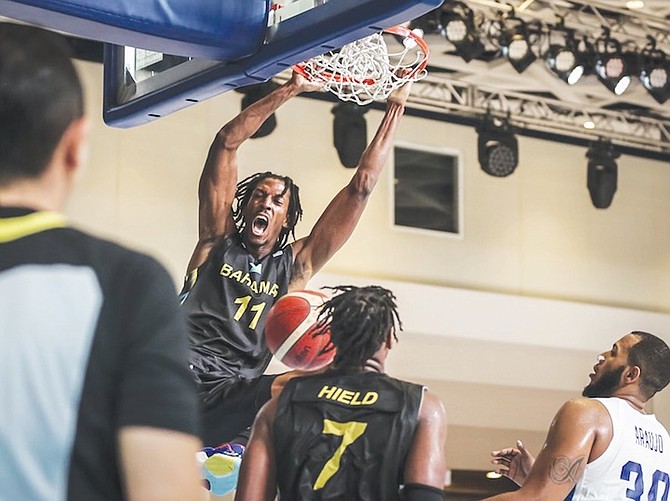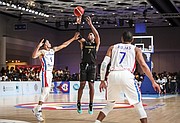 By RENALDO DORSETT
Tribune Sports Reporter
rdorsett@tribunemedia.net
Chavano "Buddy" Hield put on a show playing in front of the home crowd for the first time as a pro, but a fourth quarter rally from Team Bahamas fell just short as they lost the final game in the third window of FIBA World Cup 2023 Americas Qualifying opening round play.
Hield scored a game high 29 points on 11-16 shooting from the field (6-11 from three), but the Dominican Republic held on for an 88-80 win last night at the Baha Mar Convention Centre.
Hield also added a game high eight assists and five rebounds to lead The Bahamas in both categories.
Travis Munnings scored 14, Danrad Knowles added 12 points off the bench and Franco Miller Jr scored nine. "It was beautiful, it was fun," Hield said of his first experience at home playing as a member of the national team. "Seeing the crowd there, hearing the horns, the cowbells, people shouting. When we hit a three it sounded like a dunk effect so the energy they brought was amazing."
The Bahamas made its first three three pointers of the game, two from Hield and one from Mychel Thompson, to take an early lead but the visitors went on an early 12-0 run to take a 22-11 advantage.
The DR took a 26-17 lead into the second and led by as much as 15 before Hield scored seven straight to make the score 36-28. Munnings missed a pair of free throws that could have cut the lead to six, but Victor Liz responded with six points of his own to swing the momentum back in favour of the visitors.
Gelvis Solano followed with a three at the buzzer to give the DR a 46-33 headed into the half. Hield had 21 of his 19 points at the half but, to that point, no other player on the Bahmian roster scored more than five. The Bahamas had its biggest scoring run late in the fourth when Miller made a pair of threes and Hield's assist to Knowles for a reverse layup made the score 83-74 before the DR was able to seal it late with free throws.
The visitors had a 43-30 rebounding advantage and shot 63 percent from the field on the night. "Everything is a building process with this team. Coach [Chris] Demarco and his staff have done a tremendous job. Where we came from to now, making it to the second round of the qualifiers - we've never done that in Bahamian history so hats off to his staff and to the guys that got that first win over USVI that we needed to get, that was really big," Hield said.
"We wanted to win this one in The Bahamas, but it was fun and we qualified. I think the Bahamian people see the progress we have been making, we have some guys that will join us eventually but we are looking forward to August, getting better, and coming back for another homestand here."
The Bahamas will take on Venezuela on August 25 in the second round of FIBA World Cup 2023 Americas Qualifiers and will follow with a matchup against Argentina on August 29. In the second window, they are set to take on Panama on November 10, followed by the second matchup against Argentina on November 13. The third and final window will feature the second matchups against Venezuela (February 24, 2023) and Panama (February 24, 2023).
"There's a lot of excitement around here for basketball in The Bahamas," Hield said.
"Everyone has seen the growth, they have seen the draft picks, young guys are making strides and I'm glad the Bahamian people showed up. We just want you guys to come out again in August, continue to support us and we will do our best to get a win."
Victor Liz led the Dominican Republic with 26 points, Angel Delgado scored 17 and Eddy Polanco finished with a double double - 15 points and 11 rebounds.
Demarco highlighted Hield's leadership qualities that were on display during the third window, both on and off the court.
"When your star player is as selfless as he is and as great a person as he is, that's what wins games and that's what wins championships. Everyone else follows that lead," Demarco said.
"I've been lucky enough to have been around some championship-type players with that same type of personality and way about them - Buddy is definitely that.
"As a national team, we can't go out and try to find that player, try to sign that player, so for us to have that in him is a lucky thing, it's incredible."
The Bahamas completed a sweep over the US Virgin Islands to finish as a top three team in the group and advance to the second round. Canada finished as the leader of the group at 6-0, The Dominican Republic 4-2, The Bahamas 2-4 and the USVI eliminated with 0-6.
"Over the four years I've been a part of this programme, we've tried to find guys that can be effective and learn the system, try to find high IQ players to learn the way we want to play," Demarco said.
"I do think we're headed in the right direction that really understands what we have to do to try and win games."