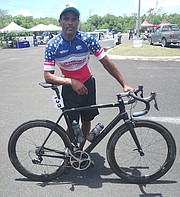 By BRENT STUBBS
Senior Sports Reporter
bstubbs@tribunemedia.net
HE could have easily given up any hopes of competing at a highly competitive level again, but after undergoing the first of two scheduled surgeries to remove his kidney stones, versatile multiple sportsman Lorenzo Carter is back in action.
The 53-year-old Carter completed his first surgery at the end of March at the Baptist Health International Center in Coral Gables, Florida and three months later, he is just delighted to be able to compete again.
"It set me back by about seven months. I didn't do any training after I got back here in April," said Carter, who is self-employed. "I did some slight training to get ready for this race. I'm pretty okay right now, but I have to go back and do another surgery at the end of the summer."
Although he competed in a tune-up race a couple weeks ago, this was just Carter's second race in his recovery. But because it was the nationals, he wanted to make sure that he was in tip-top shape to compete.
He did, coming in third in the time trials on Saturday and sixth in the open road race on Sunday at the Clifton Heritage Park.
"I felt good, but I can tell that I am not 100 percent from the races that I competed in," Carter said. "I could feel the cramps in the road race, which is not normal.
"The kidneys control the electrolytes in your body, so I suspect that is what is associated with what happened to me today (Sunday). But I believe in time, it would all get back to normal."
And once he's back at full strength, Carter said he will definitely be making his presence felt competing once again in the various sporting disciplines like basketball and softball where he's been able to hold his own among his peers.
"I have the Tour of Freeport to do in Grand Bahama this summer and once I'm done with that, I will be doing some basketball and softball and then continue the cycle with cycling," he projected.
"Just the love for sports and the motivation to compete is one of the main factors that enables me to continue. By rights, I should be competing in the master's category, but I prefer to be running with the young bucks because it's more competition."
Looking at his performances over the weekend, Carter said he was quite pleased with his efforts. He noted that it's a great accomplishment for him in his comeback after the surgery.
"Next year, I hope to get on the podium in both races in the time trials and the road race," Cartwright said.
"I just have to work on my endurance and getting the other surgery done.
"Once I get that other surgery done, it would help me in getting my endurance done."
Having established a GoFundMe for the initial surgery, Carter said he's still appealing to the general public to lend their support.
"I am very pleased with the support that I've gotten. I want to thank everybody who supported me through their donations, prayers and physical support," Carter said.
"Thanks to everybody who reached out and supported me, including my loved ones and my competitors in the various sports.
"It would not have been possible if it wasn't for God and for all of the people who reached out and supported me with their prayers, moral support and financial contributions."
Bahamas Cycling Federation president Roy Colebrooke said it was such a relief to be able to watch Carter as he made his return, not just to compete in the nationals, but to emerge as one of the top competitors. "It was such a joy to watch Lorenzo compete in the Nationals," he said. "He's been an inspiration to all of us to see how he was able to persevere from his surgery to be able to compete out here and compete at such a high level. We wish that he will get back to the level that he was before when he was one of the top cyclists to watch. This was just a start and I believe that in time, he will return to top form."