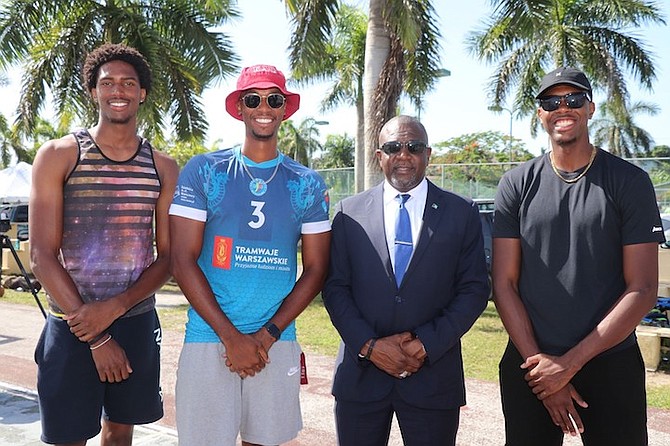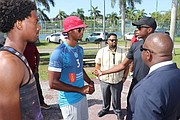 By BRENT STUBBS
Senior Sports Reporter
bstubbs@tribunemedia.net
HOME on their break from playing overseas, professional volleyball players Eugene Stuart and Shonari Hepburn, along with collegian Ras Jesse Delancy, are combining their collective skills as they share their expertise to the youngsters in the Ministry of Youth, Sports and Culture's Summer Camp.
The trio are stationed at the Tom 'The Bird' Grant Park where they are among the lists of instructors participating in volleyball, basketball, tennis, softball and baseball on a daily basis from 9am to 1pm until the end of the month.
"We're teaching the basic fundamentals of volleyball because it's not a sport that is popular like basketball here in the Bahamas," said Stuart, a former basketball/ volleyball player during his high school at St Augustine's College.
"We just want to show them how to play the game and perfect their skills."
Stuart, who played in Romania during his last sting on the pro circuit, said it has been a rewarding experience so far.
"Apart from the heat, it's been great," said Stuart, who is preparing for his fourth pro season overseas. "We haven't had any injuries so far, so it's been quite exciting for me."
Delancy, coming off the Player of the Year honours in his first season in the Southern Intercollegiate Athletics Conference (SIAC) with Benedict College Tigers, said he welcomed the opportunity to assist in the camp.
"It's amazing because I can now tell people behind how some of these players here have helped me to get to where I'm at right now," Delancy said.
"It's been great so far. Everybody has a great attitude and they are willing to learn.
"Even when we tell them something or we try to show them how to do it, they have been very respective. It's been a good experience so far."
Delancy, who at age 22 stands at six-feet, eight-inches, noted that he really enjoys spending the time with Stuart and Hepburn because they have been able to help him expand his horizons.
"They are my role models, so it's good for me to learn from them at the same time," Delancy said. "I'm heading back to school for my second collegiate season and so I'm eager to see how everything goes with them."
And Hepburn, who last played in Frankfurt, Germany, said it's great to be home, but while he's just getting the chance to get back into the gym to train with his fellow local players, he's taking advantage of the opportunity to assist in the camp in the meantime.
"Everybody is getting back into sports because we're now getting used to living with COVID-19, so it's nice to see some of the young talent that we have in the country," Hepburn said.
"We know that volleyball is not one of our super sports in the Bahamas and that is frustrating for me because in Europe, the sport is almost as popular as soccer.
"When you are overseas, soccer is number one and then volleyball is a close second ahead of basketball. But here at home, everyone is playing basketball, so it's good to see that there are some camps that are actually catering to volleyball players in the country."
With more exposure in camps such as the Ministry of Sports, Hepburn said they can begin to change the culture and hopefully get more players exposed to playing at both the pro and collegiate level, which will inspire more youngsters to get involved in the sport.
"When more players get involved and they improve their game, they will encourage more persons to want to get involved in the sport as well," he said. "That's how we improve at the club level and the night league programme and it extends to college and the pro ranks and the circuit starts all over again."
Stuart, a 26-year-old 6-7 player, said as long as the players who are excelling overseas get an opportunity to be exposed to the younger players, they will encourage and inspire them to improve their level of the game and allow more players to get to the next level.
"Everything starts small. We have to build the foundation like we are doing here in the camp," he said.
"Then these players will get to play at the high school level and hopefully they will move on to the club system. As time goes on, they can see the necessity of them playing the sport and making a living out of it like Shonari and I are doing."
Delancy, who hopes to one day be the next pro player, said he's in it for the long haul and he just wants to motivate others to get themselves prepared to follow in their footsteps as they continue to make volleyball one of the most vibrant sports in the country.
Hepburn, who stands at 6-7, is a 29-year-old former softball and baseball player, who is enjoying his career as a pro volleyball player.
He, along with Stuart and Delancy, are inviting as many Bahamians to join them in the camp at Tom 'The Bird' Grant Park before it's finished at the end of the month.