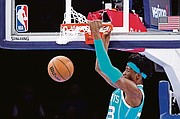 By RENALDO DORSETT
Tribune Sports Reporter
rdorsett@tribunemedia.net
KAI Jones and the Charlotte Hornets concluded the NBA2K23 Las Vegas Summer League with a 2-3 win-loss record.
In five games, the second year forward averaged 8.6 points, 6.4 rebounds and two blocked shots in 20 minutes per game.
He had his best performance of Las Vegas Summer with 11 points (5-7 field goals), six rebounds and two blocks in a 90-81 win over the Cleveland Cavaliers.
He opened league play with 10 points and nine rebounds in a 96-84 loss to the Indiana Pacers, but struggled from beyond the arc as he shot 0-10 on threes. He also posted nine points and eight rebounds in an 89-73 loss to the Chicago Bulls and also eight points, four rebounds and four blocks in an 89-86 loss to the Minnesota Timberwolves.
This year marked Jones' second appearance in the Las Vegas Summer League.
As a rookie last year, he averaged 9.8 points and 9.4 rebounds in 28.1 minutes per game.
The team was coached by Greensboro Swarm head coach Jordan Surenkamp.
At the NBA level with the Hornets, Jones appeared in 21 NBA games but played sparingly on the bench, but excelled at the G-League level under Surenkamp on assignment with the Swarm.
He averaged 16.5 points on 61.4 percent shooting from the field – 32 percent from three-point range – 9.6 rebounds, 1.1 assists, 1.1 steals and 2.1 blocks in 32 total G League games. He also posted 15 total double-doubles.
Jones highlighted the season with a career high 30 points and grabbed nine rebounds in a 139-119 win over the Long Island Nets on March 27 at the Greensboro Coliseum in North Carolina. "I bought in out of the gate. I love basketball, so once I was told about the opportunity to play 30 minutes (in Greensboro) because I wasn't playing up here (in the NBA), I was jumping. I was so excited and ready to go. It gives me extreme confidence. Coming in, I believed I could have an impact on this team on both ends.Now, it's just that I think I can have a greater impact. I know there's no ceiling for me. Just continue to work," Jones said in his postseason exit interview.
"Coming into the season, I didn't think I was going to be down there, but God had a plan and I'm glad that I did go. I learned so much about myself and grew so much. It's a blessing. The biggest thing for me was walking in gratitude. I think that's huge. Learning how to be so grateful for playing the game every day and with the opportunity you have in front of you, making the most out of it."
Jones was selected No. 19 overall by the New York Knicks but his rights were traded to the Hornets for a future first round pick in the 2021 NBA Draft in June at the Barclays Center in Brooklyn, New York.