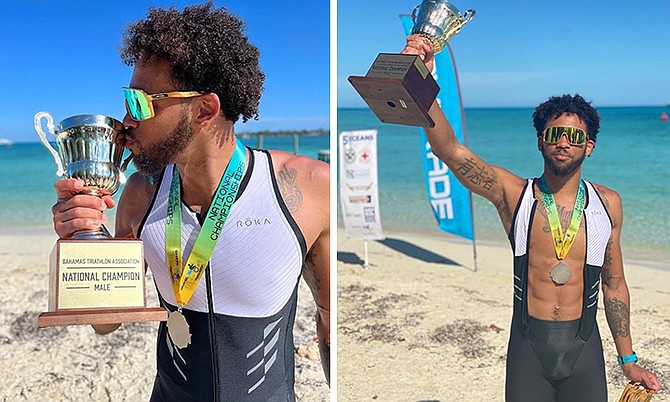 By BRENT STUBBS
Senior Sports Reporter
bstubbs@tribunemedia.net
MAKING the switch from swimming has certainly paid off for Armando Moss.
The former national team swimmer used his experience to help him to win the Bahamas Triathlon Association's National Championship title at Jaws Beach in May with a personal best time of one hour, six minutes and 54 seconds, inclusive of 10:17 in a 750 metre swim, 30:28 on a 20-kilometre bike ride and a 4:30 in a 5K run.
As a result of his performance, Moss has earned the rights to represent the Bahamas in triathlon at the Commonwealth Games that will be staged from July 27 to August 7 in Birmingham, England.
"I feel proud. It's been 6 years since I've been on Team Bahamas and even longer since I've competed abroad," Moss said.
"I also feel grateful that The Bahamas is in a position to develop newer sports like triathlon.
"Lastly, I'm fairly happy that the sacrifices that I've made have given me this opportunity."
Moss, who is currently based in Cincinnati, Ohio where he is an advisory manager specialising in financial due diligence at Price Waterhouse Coopers, said his preparation for the championships has been very stressful.
"An endurance sport such as this requires countless hours," he said. "I switched from swimming to triathlon because I didn't have the capacity in my work schedule to train for swimming not knowing that tri-training would be a drastic increase in training hours."
With this being just the third triathlon for Moss, who will celebrate his 30th birthday on the day of his competition on July 29, he's not putting any high expectations on himself, but he admitted that he has a strategy and a goal and he'll just see how he's able to respond on race day.
Cameron Roach, another former national team swimmer turned triathlete, will be travelling with Moss as the team coach. He said as the lone competitor to compete in the triathlon for the Bahamas, they are just looking for him to complete the course, hopefully in the peloton at the end.
"The professionals he will be competing against are very good, so to make podium is not realistic," Roach admitted. "But to be somewhere in the middle of the pack is certainly a reality.
"As a former swimmer, we expect for him to get out there with the top swimmers and, of course, he's a pretty good cyclist, so if he can be right up there with the rest of the field, he should be able to hold his own in the run."
Moss concurred, noting that his swimming experience should really be a plus for him heading into the bike and the run segment.
"Typically I say that I'm at a disadvantage because the swim portion of the race is generally much shorter (distance and time to complete) than the other sports," Moss pointed out.
"Therefore typically cyclists and runners have more of an advantage, however, given the importance of drifting while cycling in this race, it is extremely important to be well-positioned out of the water and onto the bike therefore favouring my swimming ability."
Moss, however, threw caution to the wind, adding that the open water is very different than swimming in a pool, so it could be a subject for another topic after his appearance at the games. But the single father of a son, Armando Moss Jr, assured the public that he's going to Birmingham to give it his best shot, not just in the swim, but the bike and the run as he makes a successful international debut in the triathlon.