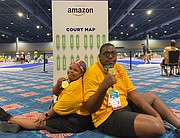 TEAM Bahamas continues competition at the 2022 Special Olympics USA Games, hosted in Orlando, Florida.
June 5
Deron Forbes was fourth in his 400m preliminary round.
Vashni Thompson competed in women's singles Bocce, lost the first match and won second match in prelimary round.
Stephen Russell won both of his preliminary matches in men's singles Bocce
June 6
Bowlers Austin Green and Bronson Aranha bowled their preliminary games. Green averaged 125 while Aranha averaged 122.
June 7
Team Bahamas went after five medals and came away with four. They also recorded a fourth place in bowling singles division M5 and missed bronze by seven pins.
Soccer team lost 3-2 to Special Olympics Florida
Vashni Thompson won bronze in the women's singles Bocce
Bronson Aranha won won bronze in Bowling division M8
Stephen Russell won gold in men's singles Bocce
Deron Forbes won gold in Track and Field in the men's 400m
June 8
Soccer team lost a hard fought game 3-1 to Special Olympics Michigan.
Bowlers finished seventh in their doubles match
Deron Forbes finished third in his 200m prelims. He will run in the finals today.
Bocce doubles team of Stephen Russell and Vashni Thompson won both of their matches today.
They defeated Aruba by a score of 10-1 and then beat Delaware by the same score of 10-1. They advanced to the gold medal match
June 9
Bocce doubles team of Stephen Russell and Vashni Thompson won the gold medal in their division by defeating Aruba 10-3. This dynamic duo went undefeated in doubles competition play.
Soccer team won its first match of the competition, defeating Special Olympics Colorado 2-1.
They will continue play today.