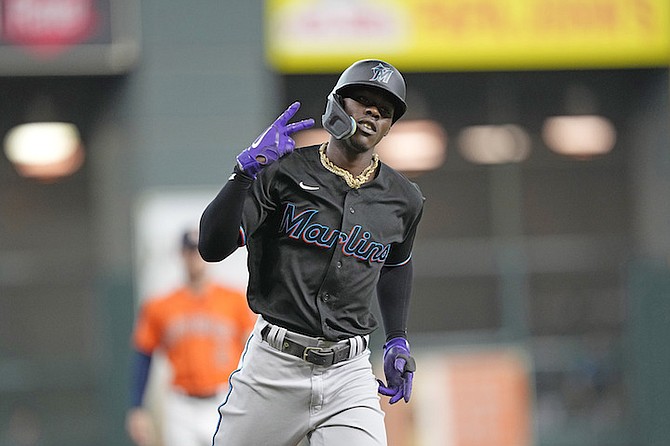 By RENALDO DORSETT
Tribune Sports Reporter
rdorsett@tribunemedia.net
JASRADO "Jazz" Chisholm Jr was reportedly the subject of criticism from fellow Miami Marlins teammates in a players only meeting, but the much maligned star second baseman responded on the field with the most productive stretch of his MLB career.
Prior to a June 8 matchup against the Washington Nationals, the Marlins hosted the meeting and Jon Heyman of the New York Post was the first to report that Chisholm drew the ire of several teammates to to his style on and off the field.
"Jazz Chisholm has turned into a star in Miami. But Chisholm turned out to be the subject for criticism in the team meeting, according to sources, as teammates apparently aren't always as enamored as fans who love the style and sizzle," Heyman said.
"Mattingly said he didn't want anyone talking behind anyone's back, and perhaps a little up-front honesty worked."
Over the course of the next four games, Chisholm responded by hitting .375 with four homers, nine RBI and seven runs scored. The Marlins went on a five-game winning streak, ended by yesterday's loss to the Houston Astros.
Immediately following the June 8 meeting, Chisholm blasted two home runs, including his first grand slam and a career high six high RBI to power the Marlins' 12-2 win over the Nationals at loanDepot Park in Miami, Florida.
Chisholm entered the game 2-29 at the plate since his return from a hamstring injury on May 29 and joined Jorge Soler as the only Marlins players with multi home-run games this season.
He discussed his approach to criticism with the MLB Tonight crew on MLB Network.
"I think have a tool that's called 'I dont care' and I use it to my fullest potential. I just go out there and have fun," he said. "The game blesses me everyday to come out here and be able to enjoy it and especially a place like Miami where anybody would kill to live so to play a professional sport here is even more amazing so I just go out there with that attitude because I don't care what anyone else has to say, I'm just out here living my life and enjoying the game. The game doesn't owe anyone anything and it's given me alot so I just have fun with it."
On Friday, he and teammate Jesus Aguilar became just the fourth pair of Marlins teammates to each hit two home runs in a game, according to Baseball Reference.
He's had 2 two-homer games in the last week alone and through just 46 games, he's nearly eclipsed his offensive production in 124 games as a rookie in 2021. He followed with a game tying run in extra innings as the Marlins won the second game of the series, 2-1, and went 2-4 with two runs scored in a 7-4 in the series finale.
In the series opener on the road against the Houston Astros on January 10, Chisholm had his second multi home run game of the season in the Marlins' 7-4 win.
He finished 2-5 with three RBI and scored two runs.
"I think my personality is my number one tool," he said. "The baseball tool, it would have to be the swag. Everything else to me is even, I can hit, run, play defence, whatever you need me to do I'll be out there doing it."
Chisholm is currently hitting .251 with a .314 OBP and slugging .543 with 12 home runs, 40 RBI, an .849 OPS, a 142 OPS+, 31 runs scored and a league-leading four triples this season.
He is also a leading candidate to earn a spot on the National League roster for the 2022 All-Star Game.
Voting for the 2022 Major League Baseball All-Star Game is now underway. Ballots can be cast on MLB. com and cast your ballot, up to five times a day every 24 hours.
The first phase of the voting runs through June 30 at 2pm.
Then, there will be two finalists announced at each position (six outfielders) and the vote totals reset for the final days of voting July 5-8.