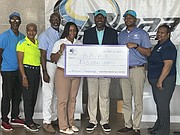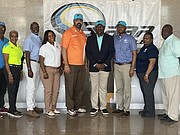 By RENALDO DORSETT
Tribune Sports Reporter
rdorsett@tribunemedia.net
CORPORATE citizens have stepped forward to support the BAAAs and its athletes as they prepare for the landmark event on the local track and field calendar.
Oaktree Medical Center came on board as the title sponsor while Fidelity Bank joined as a gold sponsor for the upcoming BAAA National Championships, June 24-26 at the Thomas A Robinson Stadium.
Dr Don Diego Deveaux, director at Oaktree, said his organisation's $25,000 pledge signifies its commitment to youth development.
"Our motto is caring, compassion, complete and the complete aspect stands out to me because we are a community and when I see these events being hosted, we just try to figure out how we can be involved.
"It's good to get from the community, but we have to figure out how we can give
back and it's the spirit of giving back that drives everything we do. I think if we can band together as a community, no matter which race, colour, creed, political party - it does not matter, we can show that we are one Bahamas," he said. "When I look back at the number of Olympic champions from this small nation, I personally think that we have the best talent pool in the world and it is with that conviction that it is about giving the youth the opportunity to get there and we want to be supportive of everything. Think of us as a mini Youth, Sports and Culture, willing to help as best as possible and I encourage my fellow corporate citizens to do the same. We are one Bahamas, and if you cannot do it for us, who are you going to do it for?"
Gowon Bowe, Fidelity Bank chief executive, said the successful staging of the national championships is a return toward the level of competition and rivalry that can bring the best out of our athletes.
"Rivalries are always entertaining in The Bahamas. We know we have it in junkanoo, but even before we get to that, it starts in our schools and it starts in our athletic programmes. We often hear the negativity around the youth but we don't often emphasize the positive elements," he said.
"When we go back to those days of coming out to our high school championships, and then to the BAAAs, watching our talent evolve, then watching us as 400,000 people surprisingly have won the Olympics and World Championships time and time again on a per capita basis and if we can be a part of that I think that is important. Whenever there is an opportunity to support and sponsor, we are going to be committed to youth development, ensuring that those elements that are good for us as a country, are those elements we are behind."
The first two days of competition will feature traditional events from junior and senior elite athletes while the final day will feature a relay carnival.
"We are looking forward to welcoming everyone to the greatest show on earth next weekend," said BAAA President Drumeco Archer.
"For the first time in our history, we have included the youth component in our National Championship programme, giving recognition to our growing stars who will one day become the face of a new sporting generation. After three years of not having a Primary School National Track and Field Championships, we recognise that it was imperative that the federation provided a replacement to ensure the succession of our programmes."
With a plethora of international events on the horizon for Bahamian athletes at both levels, Archer said the upcoming nationals can be seen as the catalyst for the future growth of the national programme.
"It is a collaborative effort, a nation-wide talent search and athlete development programme for both our short term planning - with the CARIFTA Games in mind, along with the long term sustainable goals of our federation," he said.
"It is so often said of our senior athletes that they always look forward to the support of the Bahamian fans and once again we have the opportunity to see some of the best athletes in the world, who are Bahamian, live and in living colour at our nationals."
Just over 300 athletes have registered for the event thus far with the deadline set for 9pm on June 17.
Laura Charlton, special projects manager in the BAAA, said the public at large can expect the country's best athletes to compete next weekend.
"This is the national championships and they are all excited to compete at home in front of their Bahamian crowd," she said.
"One of the policies of the federation is that in order to be considered for a national team you must compete at the national championships, unless there are some unforeseen circumstances, but it is expected that everyone will be here and they will put on a good show."
Charlton added that the sponsorship from both organisations sets the tone for other members of corporate Bahamas to come forward as the Bahamas prepares for a series of competitions at the junior and senior levels.
"We have not had any major sponsorship in years so, on the heels of COVID this is an awesome gesture on behalf of our sponsors," she said.
"This is an exciting time for us in track and field, we can now start to rebuild and improve our corporate partnerships to allow us to put on the best shows for our athletes as well as to help to prepare our athletes for competitions we have throughout the year. It is not a cheap venture to send these teams off, we always have to ensure our athletes have the best opportunity in terms of travel and accommodations so partnerships like these help us to do that."
In addition to giving athletes a chance to qualify for international events in the relays, Sunday's carnival will offer moments of levity with corporate partners and civic organisations expected to compete.
"This gives our teams an opportunity to qualify when we have all of our athletes together in one place," she said.
"We have also opened it up to our civic organisations, fraternities, sororities, corporate Bahamas, other sports clubs, you can all put your teams together and compete."