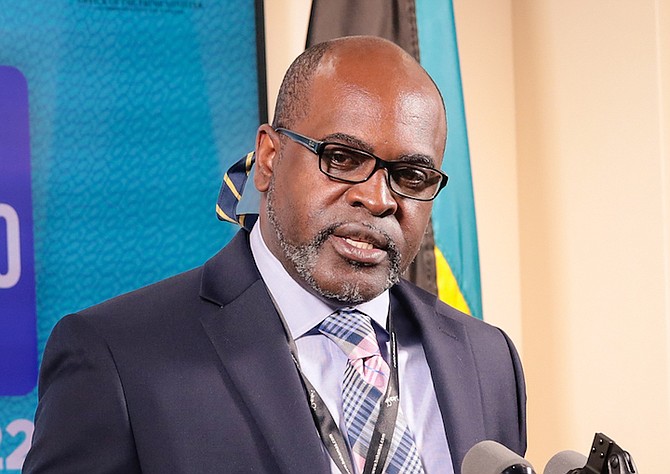 By NEIL HARTNELL
Tribune Business Editor
nhartnell@tribunemedia.net
The Ministry of Finance's top official yesterday said the Government's "options are limited" in providing the relief sought by petroleum retailers struggling with gross margins of 10 percent or less.
Simon Wilson, the financial secretary, told Tribune Business it was "not an easy fix" to the industry's plight after both sides met again late last week to discuss the dealers' concerns. He added that both sides had agreed to keep talking although there no resolution was achieved.
"We agreed to continue to have these discussions," he disclosed. "I think we gathered more information. We're discussing it. It's not an easy, easy, easy. It's not an easy fix. We're going to keep on talking. It's not easy. I think our options are limited."
Vasco Bastian, the Bahamas Petroleum Dealer's Association vice-president, declined to comment on the latest talks when contacted by Tribune Business yesterday. "I have no comment on any discussions that myself and the Government had last week. I cannot discuss it. I cannot comment on anything at this time," he added.
The two petroleum industry factors within the Government's direct control, with per gallon gasoline prices having broken through the $7 barrier, are the price-controlled fixed margins imposed on the dealers as well as the sector's taxation structure.
However, Michael Halkitis, minister of economic affairs, has already ruled out an increase in industry margins on the basis that this will further hurt consumers already struggling with soaring inflation and rising pump prices.
The last time petroleum dealers enjoyed a margin increase was in 2011, when the Hubert Ingraham-led Free National Movement (FNM) government granted a 10 cent increase per gallon of gasoline to take it from 44 cents to 54 cents. A 15 cent increase per gallon of diesel was also allowed.
Dealers had recently said they wanted a 50 percent increase in gasoline margins, which would have raised them by 27 cents to 81 cents per gallon. They have also argued in favour of moving away from a fixed margin to one based on percentages.
And they have pointed out that it is the Government, not themselves, who makes the most money from the petroleum industry via taxation. The rise in global oil prices means that the Government's per gallon tax take, due to the 10 percent VAT, has only increased with per barrel prices last night standing at $109 and $112.3 on the West Texas Intermediate and Brent crude indices, respectively.
Sir Franklyn Wilson, chairman of BISX-listed FOCOL Holdings, which operates under the Shell brand, yesterday told this newspaper he was unaware of the wholesalers being brought into the discussion between the Government and retailers despite the integral role they play in the industry.
Shell, Rubis and Esso (Sol Petroleum) are key to any solution since they are on the other side of commercial agreements dealing with the rent, royalties and franchise fees that retailers pay to them - issues which the latter has also long complained about.
"From our particular point of view, we just accept that in this climate the idea of increasing margins at this point in time is a tough thing for the political people to do," Sir Franklyn said. "We just accept that reality. We are operating on the premise of suck it up, do the best we can in the short run and, God willing, when circumstances get better the matter will be revisited. That's our corporate position."
Higher oil prices mean that petroleum retailers are also increasingly having to use overdraft and credit facilities to pay their suppliers for the fuel they sell to consumers. And, as a result, they are incurring increasing fees for using these facilities. And, with gross margins at 10 percent or less, they have little left to cover the cost of rent, electricity and staff, leading some to mull staff terminations or reduced hours in recent weeks.
One alternative to margin increases/adjustments may be to alter how the industry's Business Licence fee is calculated. The latter is based on gross turnover. While the gas station operators enjoy a "concessionary rate", as a high turnover/low margin operation they are penalised by how it is calculated.
When oil prices soar, their turnover goes up because of higher costs incurred in purchasing the fuel they sell, but net revenues stay the same because of the fixed margins. As a result, they end up paying more in Business Licence fees but net revenues stay the same no matter what.
"It gives the impression revenues are high, but revenues are tied to the 54 cents they get," Mr Wilson said previously. "There were discussions around that, there were discussions around what type of support the wholesalers can provide in this environment....
"It was an open and frank discussion. What they really wanted from the Government was to say we don't want a band aid; we want a permanent solution. Yes, fuel prices are going to trend down eventually. But we want a permanent solution. We don't want a band aid where we do a quick fix here and two years from now, three years from now, we're back here trying to find out what is the right solution."