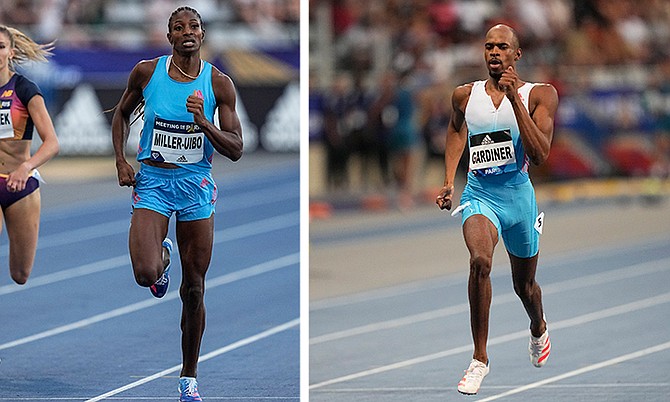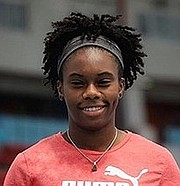 By BRENT STUBBS
Senior Sports Reporter
bstubbs@tribunemedia.net
Bahamian Olympic 400 metre champions Shaunae Miller-Uibo and Steven Gardiner shared the stage at the same meet for the first time this year and they proved that they are ready to head to the World Championships for their next major international showdown.
The duo both looked impressive on Saturday at the Wanda Diamond League meet in Paris, France, where World Indoors silver medallist Devynne Charlton came through for second in the women's 100m hurdles.
Coming off a fourth place finish in her last race in the women's 200m in Rome on June 9, Miller- Uibo returned to her signature event in the 400m where she secured her victory in 50.10 seconds, leaving fellow Bahamian Tonique Williams-Darling's meet record of 49.15 from 2004 on the books.
The 28-year-old Miller- Uibo used her lanky 6-foot, one-inch frame to establish the early lead through the first 200m. She came off the final curve and on the straightaway, took a peek at the rest of the field as she manoeuvred down the home stretch.
"I had a great race tonight. Really great. I did a strong start, I pushed a lot on the first 300m, then I managed to stay in the lead," said Miller-Uibo about her game plan. "I still had some gas in the tank to finish strong.
"The track is fast. I'm quite happy about the model of 400m I want to execute this season. Now I'm going to travel back home. No more meetings on my schedule because we have trials for the World Championships next week."
As she gets set for Eugene, Miller-Uibo said she's quite confident about her chances to win her first gold medal at the World Championships.
"I'm healthy, everything is going great at training," said Miller-Uibo, who is trained by American Lance Brauman with the Pure Athletics Club in Orlando, Florida. "I'm exactly in the shape I wanted to be at this time of the season."
In full control of the race from lane four, the two-time Olympic champion coasted across the finish line with a jog as a pair of Poland competitors, Natalie Kaczmapek and Anna Kielbasinski closed the gap in 50.24 and 50.28 in lanes five and six respectively.
Paris successful debut for Gardiner
Gardiner, the reigning world champion, made his debut in Paris where he hopes to be back in 2024 to defend his Olympic title. Like Miller-Uibo, Gardiner established control of the race from the start in lane five, but got a challenge through the first 200m from Lidio Andres Felix from the Dominican Republic in lane four.
However, the 26-year-old Gardiner used his 6-3 frame to shift into another gear on the back half of the race and clocked a season's best of 44.21, leaving Felix behind in 44.92, while Nene Zakhiti of the Republic of South Africa was third in 44.99. "Today, it was amazing. My first time in Paris and it is a season's best. I won the race so it feels good," Gardiner said of his performance. "I am ready to see what is next for me."
Next on Gardiner's calendar is his return home for the Nationals, but his priority is ensuring that he's fit and ready to defend his title in Eugene. "I am definitely on my way to defend my world title," said Gardiner, who is coached by Gary Evans in Clermont, Florida. "I want to shock myself. I want to see what I am capable of doing in Europe. I think it was one of the toughest races and I have brought my full potential."
Charlton stood tall
Immediately following Gardiner's successful debut in Paris, Devynne Charlton took to the track and after a stumble coming out of the blocks, she negotiated her way from the outside in lane seven through the 10 flights of hurdles for a second place finish in the women's 100m race in her season's best of 12.63.
Toby Amusan from Nigeria was steady from start to finish in lane five and took the tape in an area record and personal best of 12.41. Great Britain's Cindy Sember was third in 12.73.
Charlton, who along with Amusan were the two shortest competitors in the field at 5-3, was very proud of her effort.
"I think it was a decent race despite having a stumble at the start," said Charlton, who is coached by Bahamian and University of Kentucky head coach Lonnie Greene.
"The time was right around where I predicted, but having to run into a headwind.
"I think I'm in better shape than I thought. I feel pretty good going into worlds. If I can stay on this rhythm and continue to better my times over the next few weeks, it will set me up very nicely in Eugene."
Like Miller-Uibo and Gardiner, the 26-year-old Charlton, who stands at 5-3, said she's also eager to compete at home this weekend. "I'm looking forward to running in front of a home crowd," she said. "I don't get to do that too often anymore, so I'm always happy with the opportunity."
Laquan Nairn 10th in debut
In an earlier Wanda Diamond League meet held in Oslo on Thursday, Laquan Nairn's debut wasn't as successful as he had to settle for 10th place in the men's long jump with a best leap of 24-feet, 41/4- inches or 7.42 metres.
The winning leap was 26-7 (8.10m) by Militadis Tentoglou of Greece. Thobias Montlier of Sweden was second with 26-5 (8.05m) and Simon Ehammer of Switzerland came in third with 26-1 (7.95m).
The Bahamas Association of Athletic Associations' National Championships is scheduled for Friday and Saturday at the Thomas A Robinson National Stadium with a relay special on Sunday.
The four athletes are all eager to come home and put on a show for the public.