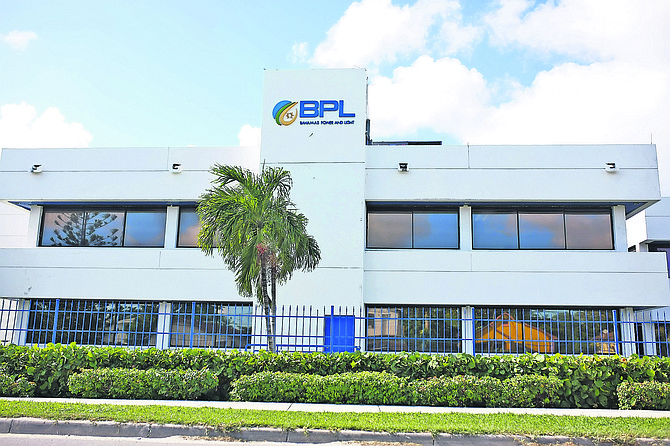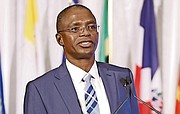 By EARYEL BOWLEG
Tribune Staff Reporter
ebowleg@tribunemedia.net
AS many consumers yesterday grappled with hours-long power disruptions in the sweltering heat, Bahamas Power and Light CEO Shevonn Cambridge said an internal review is underway to determine whether there will be an increase to billing by way of a fuel charge adjustment.
Mr Cambridge said the review will evaluate if the necessary "triggers or threshold" have been reached to require the company to make the adjustment.
This as fuel prices continue to rise as a direct result of the war in Ukraine.
Meanwhile, Mr Cambridge assured the public BPL has sufficient capacity to handle demand this summer in New Providence.
"Right now, there is a fixed fuel charge," Mr Cambridge said in an interview with The Tribune.
"There is a mechanism in place that allows for the adjustment of that fuel charge. We're currently conducting an internal review to see if the necessary triggers or threshold have been reached that will require us to do that adjustment.
 "Based on the current fuel prices, right, when it does come it will be up - it won't be down. Exactly when that will occur, we're not certain as yet. So, the prices have gone up, so obviously when we adjust more than likely the adjustment will be an upward adjustment."
 Asked for clarity on whether the adjustment will mean bills are likely to increase, he said: "They will see an increase in the fuel charge when that adjustment occurs. Their bills depend on their consumption but remember I told you we're going into our peak demand period.
 "Our peak demand period is really because this is our peak consumption period because most of the load in The Bahamas is A/C related. So, as you get in the summer, people start to consume more. So, even if the price remains the same most consumers will probably see a slight increase due to an increase in their consumption".
 The revelation comes as parts of New Providence experienced power outages on Sunday and yesterday. BPL released a statement regarding Sunday's outages explaining they were the result of "two separate incidents". The company said 31 areas were affected.
 The release said: "At 1.23pm several areas in Central New Providence went offline when a system disturbance occurred at our Clifton Pier Power Station. This problem was resolved in under an hour and the areas were fully restored. On the heels of this event, however, at about 5.30pm, severe lightning conditions were experienced on the island of New Providence, impacting generation, transmission and distribution systems.
 "As a result, a number of areas throughout the island, including Southwest and Eastern New Providence were impacted. These areas had transformers, and lines impacted as a result of direct lightning strikes. The public is reminded that BPL does not turn off areas in advance of most weather events, but protective devices such as fuses and circuit breakers operate to disconnect affected areas to ensure the safety of the general public and to reduce the risk of equipment damage. In all, 31 areas were affected by the inclement weather yesterday."
 The releases added: "BPL is committed to ensuring the safety of our customers, employees and equipment. Thus, once indication of safety was given after the weather conditions subsided, crews were dispatched to commence repairs and restore supply. Due to the significant amount of areas impacted by this event, it took our crews a number of hours to restore impacted areas and begin addressing individual customer concerns. The majority of customers impacted were restored by 9.00pm. Our crews continued to work into the morning to restore the remaining customers. As at 11am today (yesterday), our Control Centre reported having two areas and 41 individual complaints outstanding."
 The CEO also assured consumers that the island has sufficient generation to address the anticipated summer peak.
 "We are supplementing our fleet with rental generation for the summer and that was out of an abundance of caution to ensure that we're able to meet the demands. While we have a large fleet of our own, we analyse some of the trends (and) what have you and just based on some of the trends that we're seeing we felt that it was necessary to supplement some of our generation," he said.
 He also said: "Other than the demands, I know from a liability perspective we've been doing a lot of reinforcement on the transmission and disruption network. So, we've put in additional lines and some of the areas where there were capacity concerns about transmission and disruption capability. So, we've done some system reinforcement."
 In April Works and Utilities Minister Alfred Sears said "there is always the possibility" of an increase in Bahamas Power and Light bills due to external factors.
 However, Mr Sears said the Davis administration intends to maintain BPL's fuel hedge strategy, which, he said, seeks to "minimise" the unpredictable international market.
 Mr Sears has warned that a blackout-free summer for New Providence cannot be guaranteed despite multiple preventative measures. Mr Cambridge asserted that efforts were being made when questioned whether he is confident the power company can reduce the number of blackouts.
 "What I can tell you is BPL is taking every step and precaution that we can to mitigate against such incidents, but you know I've been in the business long enough to know the minute you make that statement the next day something happens. What you can do is that you plan and you plan to try and mitigate all of the risks," he said.
 "In this business, there are so many variables as you can see yesterday with the weather, we're in the middle of the hurricane season, you enter into what you call the peak demand season. So anything is possible but what I can tell you is that we are constantly working on our processes to try and make it more efficient and more reliable."
 "So, what does that mean? We're taking all of the preventative measures in terms of maintenance. We're analysing all of the trends. We're looking at a number of different perspectives and we've put in place contingency plans to ensure that if and when the power does go off that we're able to restore it in the quickest possible time. That's short term plans, long term plans."