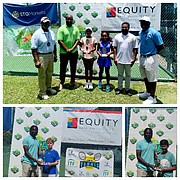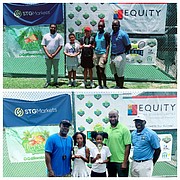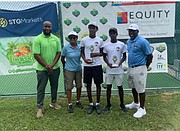 IT was a weekend of exciting and competitive tennis matches at The Bahamas Lawn Tennis Association (BLTA) Junior Nationals.
The event was held June 16-20 at the National Tennis Centre. Juniors participated in U10-U18 categories for the coveted junior national champion.
On Sunday, the following national junior champions were crowned:
Girls singles U-10
Champion: Marina Bostwick.
Runner Up: Victoria Sandi-Aguilar
Boys singles U-10
Champion: Kingston Rees.
Runner Up: Harrison Van Onselen
Girls singles U-12
Champion: Kaylah Fox.
Runner Up: Briana Houlgrave
Boys' singles U-12
Champion: Patrick Mactaggart. Runner Up: Atharva Hombal
Boys' singles U-18
Champion: Dentry Mortimer Jr.
Runner Up: Sharano Hanna
The event offers the highest ranking points on the BLTA's calendar and based on the performance in this event and others national team representation in international team competitions is determined.
Over 100 matches were played across the singles and doubles categories by the end of tournament play.
The BLTA expresses appreciation to Equity Bank and Trust Bahamas Limited, Limeade Bahamas, St Global Markets Limited and The Trophy Case who sponsored this prestigious event. The tournament referee was Everette Munroe, tournament director Esther Newton and assistant tournament director Denise Mortimer.
All tournament information results can be found on the BLTA's website https:// www.blta.net/blta-junior-nationals-tournament/ .
The tournament wrapped up with the girls and boys U-14 and U-16 singles finals and the doubles semis and finals.