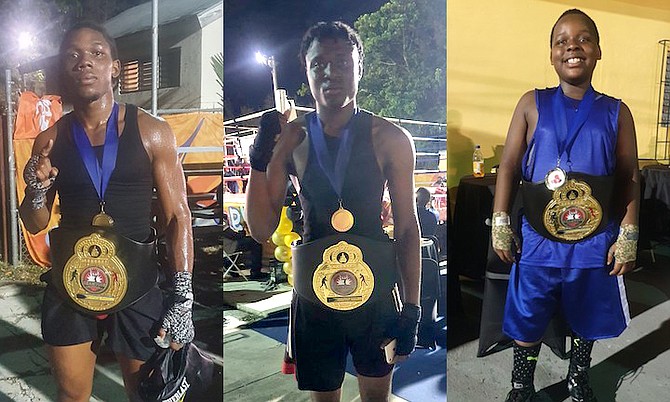 By BRENT STUBBS
Senior Sports Reporter
bstubbs@tribunemedia.net
ROYCE Colebrooke, Devaughn Musgrove, Christian Thompson and John Saint Wrint were among some of the top performers on Saturday at the After Shock Amateur Boxing Show that was held in honour of Ray Minus Jr.
The first Ray Minus Jr Title Awards Show, dubbed 'Gloves Up, Guns Down, was held at the National Boxing Centre in the Baillou Hills Sporting Complex and was used as a fundraiser to assist Minus Jr in his medical expenses.
Colebrooke, one of the youngest competitors on the show, produced what turned out to be the fight of the night when he managed to outslug his After Shock team-mate Aiden Cortis for three exciting rounds of non-stop action.
"I feel good because all of my dedication and hard work paid off for me," said Colebrooke, the 10-year-old son of Bahamas Olympic Committee vice president Roy Colebrooke. "The time that we put into training, I was confident that I would do well. When I came out here I knew I had it.
"The first I took advantage because my family was here pushing me. But after that round, the guy came back at me and I had to come back and step it up because I didn't want to disappoint my family and my coaches."
The senior fight of the night didn't last that long as 6-foot, 3-inch Devaughn Musgrove wasted very little time against Jerome Hart. In fact, before Hart could get himself established in the ring, the 19-year-old Musgrove was all over him.
"It was a little short, but we put a lot of work into getting me ready for whatever comes in the ring," said Musgrove, who has only been training since February. "I trained hard daily from Monday to Friday and I was so happy that I was able to come out here and perform."
With a right hook, followed by a right uppercut, Musgrove took out Hart to end the abbreviated fight in the first round.
"I played this fight over in my head a couple of times, but I didn't know it was going to end this way," Musgrove said. "He's a good fighter, I was just more prepared for the match. I really wanted this."
Christian Thompson produced another impressive showing for After Shock as he outlasted Ronald Joseph of Inagua.
After watching the punishment their boxer got from a series of combinations from Thompson, Joseph's corner threw in the towel, signifying that they had seen enough. For his efforts, Thompson was named the most valuable performer (MVP) of the night.
"I thank God. It was a good learning experience. I really want to thank my coaches Valentino Knowles and Keishno Major for preparing me and my mommy, Tameka Thompson, who is always there supporting me every step of the way," said the 20-year-old Thompson, who has been in the boxing game for two years.
"I just came out to put on a show. I really didn't see when they threw in the towel because I thought I had already won the fight. When I came out of the ring, my corner told me that I could have stopped him earlier in the fight."
John Saint-Wrint of Major Pain paid a hefty price during his super heavyweight divisional match-up against the bigger Eric Williams of After Shock. Saint-Wring had to absorb his breath a couple of times from the blows he sustained from Williams.
In the end, he emerged victorious and was awarded the most improved boxer title as well. "I put in all this fight and it finally paid off in the end," said the 22-year-old Saint-Wrint. "This dude was hitting hard, but I came out victorious."
In other results on the night, Milton Newbold won over his After Shock team-mate Mabian Adderley, Christoph Robinson of Meacher Pain Boxing Club defeated Matthew Dames of After Shock Boxing Club, Maliero Davis of Major Pain Boxing Club won over Simeon Forbes of Mighty Marlins, Renaldo Cunningham of Inagua won over Tamari Adderley of After Shock Boxing Club, Marvin Cortis of Mighty Marlins won over Keano Cox of Inagua and Lareko Baker of After Shock def. Andrew Cortis of After Shock.
In attendance for the show was Minus Jr, who is recuperating from a series of injuries that have prevented him from continuing his Champion Amateur Boxing Club programme, which produced co-coaches Valentino Knowles and Keishno Major of the After Shock Boxing Club.
"The show was spectacular. We were pleased with the way things turned out," said Knowles, one of the top former amateur boxers on the international scene.
"I feel like everything went very well tonight. We couldn't expect a better performance than we got," he said.
The Heroes versus Villains Amateur Boxing Show is expected to be the next event staged by the After Shock Boxing Club in another three months.
"We want to say thank you to all of our supporters," Knowles said. "We want to thank everybody who came out and supported us in this event for Ray Minus Jr, who paved the way for a lot of us in the sport."
Y-Care Fashions, A Sure Win, Water and Sewerage, Commonwealth Brewery, Carpet World, Prince Lock and Key, Prestigious Liquor were among the list of sponsors of the event, which provided medals and championship belts for the various winners in each division. "I was happy with the turnout. I was happy that the Bahamian people got a chance to see what the After Shock Boxing Club is all about," said Keishno Major. "We do have plans to keep this going and to make boxing the number one sport in the country once again. "It was good for the public to get to see the young boxers display their skills and for the boxers to demonstrate to the public that they can compete in this sport. Hopefully the next show will be bigger and better."