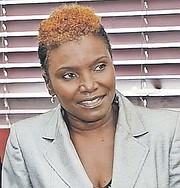 By BRENT STUBBS
Senior Sports Reporter
bstubbs@tribunemedia.net
OLYMPIC champion Pauline Davis said it's unfair for Grand Bahamian Women's National Basketball Association star player Jonquel Jones to attack the Bahamas Telecommunications Company (BTC) over her sponsorship in the manner that she did.
Jones, the reigning WNBA most valuable player (MVP) with the Connecticut Sun, was quoted in a feature with ESPN's Katie Barnes that said she believed her relationship with BTC ended due to her openly identifying as a lesbian and her "non-traditionally feminine" style of dress.
"What Jonquel said about BTC in America was wrong," said Davis as she came to the defence of the giant local telecommunications company.
"BTC sponsors all of us as athletes at different times and the contracts only go to a certain point and then they move on to the next upcoming athlete, which is rightfully so."
However, local LGBTQIA group The DeMarco Foundation, through its president and director Alexis DeMarco, threw their support behind Jones, the 28-year-old 6-foot, 6-inch forward, who was the sixth pick overall in the 2016 NBA Draft.
"Jones believes her decision to embrace her identity as a lesbian and dress more authentically came with material consequences," Barnes wrote. "The Bahamas Telecommunications Co., she says, opted not to renew her contract even though her basketball performance in the United States and overseas had improved."
After the publication of the article, BTC issued a statement refuting those claims.
"BTC has a strong culture supporting equality, diversity, and inclusion. As a company we do not discriminate against the LGBTQIA+ community in any form or manner," the statement said. "BTC currently has an endorsement contract with Olympian Steven Gardiner. All endorsement contracts are executed for a specific period of time."
Jones signed as a BTC brand ambassador in 2017.
As a former executive and lifetime member of World Athletics, the global governing body for track and field, Davis-Thompson said she was instrumental in getting BTC to sponsor the first three editions of the World Relays held in the Bahamas in 2014, 2015 and 2017 before the fourth edition took place in Yokohama, Japan in 2019.
"BTC has sponsored so many athletes from so many different sports in this country," Davis said. "In my eyes, BTC is brand number one, not just when it comes to sponsorship of sports, but other cultural events in the Bahamas.
"So for an athlete of ours to go on the world stage and to throw BTC under the bus is wrong. BTC don't deserve that.
"As a double Olympic gold medallist, I stand up and salute BTC for what they have done for this great country of the Bahamas, how they have supported us and I want them to know that I appreciate for what they did for us in this country."
Davis, who turns 56 on July 9, said whenever an athlete excels, BTC stands up and provides them with a lucrative contract, but it's not a contract that is for life," Davis said.
"So I want to thank BTC for the support that they have given to our athletes.
"They have been there for us and so I apologise for what has been said by Jonquel about BTC. I don't think it is warranted because BTC has been a good sponsor to many of our athletes and to us in hosting the first three World Relays here."
As a Bahamian company, Davis said BTC is intertwined in the community just like "conch salad and conch fritters and everything else Bahamian that we eat."
She said she's quite disappointed in Jones' remarks and wants to assure BTC that the athletes of the Bahamas appreciate all that they do in sponsoring them.