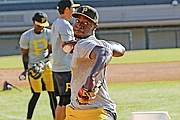 By RENALDO DORSETT
Tribune Sports Reporter
rdorsett@tribunemedia.net
TAHNAJ Thomas achieved another career milestone in the Pittsburgh Pirates organisation and is one of the club's non-roster invitees to major league Spring Training in Bradenton, Florida.
Thomas is among the group, which includes some of the club's best minor league prospects, in Grapefruit League play next week.
The 22-year-old 6'5" right hand pitcher is currently ranked no.13 in the Pirates organisation, according to MLB Pipeline.
The Pirates begin their Spring Training schedule against the Baltimore Orioles on March 18 at LECOM Park. Thomas spent last season at the High A level for the first time with the Greensboro Grasshoppers.
In 16 appearances, all starts, he finished with a 3-3 record in 60.2 innings, with 62 strikeouts, an ERA of 5.19 and a 1.58 WHIP.
The Grasshoppers finished the regular season 74-46 in the East Division and lost to the Bowling Green Hot Rods in the league championship series.
He began the season with 15 strikeouts in seven innings, allowed just three hits, one earned run, and four walks in his first two starts of the season.
Thomas missed several starts in July, and in his first start once he returned to the field, he finished with four strikeouts, and gave up one run on six hits in four innings of a 7-5 win over the Rome Braves. He threw just 59 pitches in the appearance.
A Grand Bahama native, Thomas signed with the Indians in December 2016 and was traded to the Pirates in November 2018.
In a profile with MLB. com, Thomas said his struggles last season were a learning experience.
"Honestly, I feel I shouldn't blank most of it out," Thomas said. "I think it was a learning season for me. You have to fail to succeed. Personally, I just have to pick out the goods and bads, what I have to work on, what I have to get better with from last season and bring it into this season and get better."
Thomas added that he patterns his game after perennial CY Young contenders Jacob deGrom, Walker Buehler, Max Scherzer and Justin Verlander.
"All of them start at one pace, and they keep that same pace throughout the entire game, 'Ah, I'm trying to go get 99 [miles per hour].' Then, you have someone like deGrom and Buehler, who are nice and easy," Thomas said.
"But, if you look at their pace throughout the game, they're still 75 to 85 percent. Their bodies aren't moving on the mound at 100 percent. I feel like for me, by the third inning, I'm like, 'okay, I'm starting to ramp up. I'm over 85 percent, I'm starting to get to 95 percent.' That's when I'm starting to fly open and I'm starting to get out of my mechanics."
In 2019 with the Bristol Pirates of the Appalachian League, Thomas finished with a 2-3 win-loss record which also included 59 strikeouts - the most for any Bristol pitcher since 2012. In 12 starts, he pitched 48.1 innings with a 3.17 ERA and 1.12 WHIP.
As the MiLB returned after a COVID-19-cancelled 2020 season, Thomas was promoted to the Grasshoppers and High-A baseball.
Thomas joined Miami Marlins infielder Jasrado "Jazz" Chisholm Jr on the roster of Jay-Z's Roc Nation Sports last May.