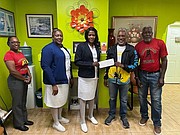 THE Bahamas Roadmasters Running Club (BRRC) continued its spirit of philanthropy with recent donations totalling $3,000.
The Bahamas Alzheimer's Association and The Nurses Association of the Commonwealth of The Bahamas (NACB) received $500 and $2,000 respectively, while veteran distance runner and long-time BRRC supporter Sam Brown received $500 to assist with his wife's medical expenses.
The funds represented part proceeds from the organisation's annual flagship event, Bahamas Half Marathon, Relay & 10 Race Series held last November.
As a result of COVID-19 restrictions, it was staged as a virtual race and drew the support of locals as well as international runners.
The club is also known for its annual Midnight Madness Fun Run & Walk, held every June on the morning of the Labour Day holiday.
Plans are already in motion for the return to an in-person race for this year's event to be held at 12:01am on June 3, starting at the Western Esplanade.
This will be followed by the 2022 Bahamas Half & 10K Race Series scheduled for November 20.
For more information, contact BRRC email address: bahamasroadmasters@gmail.com or website: www.bahamashalf242.com