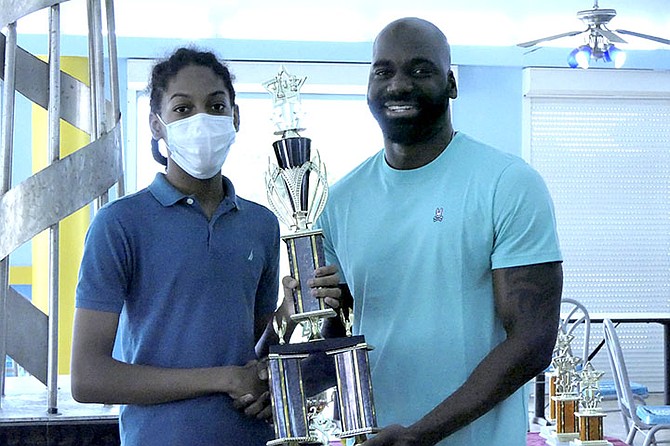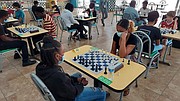 THE Scholastic Individual Chess Championship was held at the QCafe, Queen's College, on Saturday, April 30.
The Scholastic, an exciting and fast-paced tournament, has a long history of being an introductory tournament for new players.
The QCafe buzzed with new and experienced young chess minds, all determined to win the top prize. But they were no match for Avian Pride who emerged as the overall winner, winning all five of his games.
The 2022 Scholastic Individual Chess Championship attracted 21 juniors from 12 schools, public and private, throughout New Providence.
Participants competed in four categories: - under 20, under 16, under 12 and under 8.
The Championship time was game in 10 minutes for each player, considered a blitz format.
A "blitz game" is one where all the moves must be made in a fixed time of fewer than 15 minutes for each player.
"In the game of chess there is something called the touch rule," explained CM Kendrick Knowles, president of The Bahamas Chess Federation. "As the name implies, in short, if you touch a piece you have to move it. You can't change your mind and move another piece.
"The game is teaching an important lesson to the player.
"You should think so deeply that you control the emotional impulses that often manifest themselves through physical touch," said Knowles.
"The game of chess trades on the currency of self-control. The question for most parents isn't why you should teach your kids chess, the question really is - why wouldn't you? The Scholastic Chess Championship was an amazing display of chess talent, self-control and growth for chess in The Bahamas.
"The BCF congratulates Pride for his overall win and five-game sweep. We also congratulate all our category and sub-category winners for exhibiting great talent and potential."
Scholastic Individual Chess Championship 2022 Results:
OVERALL
1st Place - Avian Pride
CATEGORY
Under 12
1st Place - Chika Pride
2nd Place - Max White
3rd Place – Leo Zarchan
Under 16
1st Place - Avian Pride
2nd Place - Joshua Rolle
3rd Place –Theophilus Weir
Under 20
1st Place – Trevor Bridgewater
2nd Place – Davonye Edmond
3rd Place – Van Orense
SUB-CATEGORY
Under 10
Lhale Hanchell
Under 14
1st Place - Joshua Rolle
Top Female Player: Jayla Cargill