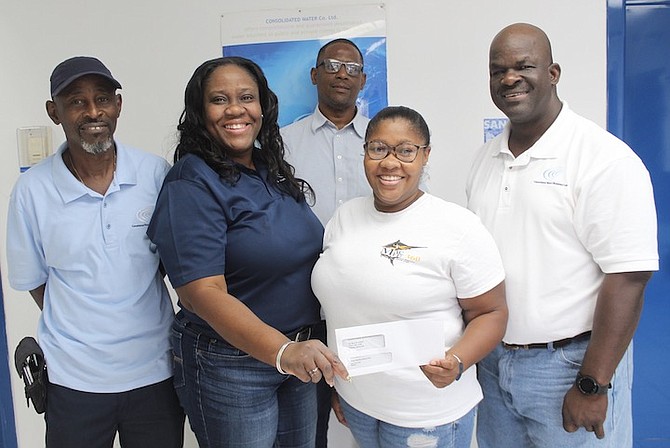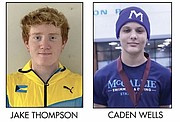 MAKING a big splash in the pool is a new local swim club with just 14 months under its belt, and already gold medal sanctioned.
The Black Marlins Swim Club, supported by Consolidated Water (Bahamas) Limited (CWCO), made a winning debut at the 50th National Swimming Championships, and hosted its first Annual Sprint Invitational and had two of its nine members that participated in those events go on to compete in the recent CARIFTA Games in Barbados.
The Black Marlins team thrilled the Bahamian CARIFTA audience as Caden Wells secured three gold medals in individual events and two gold medals in the relays. Jake Thompson, one of the senior team captains, returned home with both a gold and silver medal.
Henderson Cash, general manager at sponsor company CWCO, commended the Black Marlins Swim Club for their stellar achievements as a new club - already having 53 registered swimmers and impressive performances.
The reverse osmosis water supplier's donation helped to cover all costs associated with hosting the Black Marlins Swim Club's first meet. CWCO's funds went toward the rental of the swim facilities, tables, chairs, volunteer t-shirts and refreshments, as well as trophies and medals for all event winners.
"In such a short time, you have been able to create four competitive groups and bring home medals for The Bahamas. CWCO is especially proud of the swim club members that secured high point and runner-up trophies in many of the categories, Caden and Jake for their CARIFTA performances and Bahamian athletes overall," said Mr Cash.
Consolidated Water (Bahamas) Limited is always proud to sponsor opportunities geared toward the development of young people. Prior to this recent donation to Black Marlins Swim Club, the water supplier has donated to SC McPherson Junior High School's Annual Interschool Mathematics Competition, the Royal Bahamas Police Force Dependents' Trust, Lightning Aquatics, and other community events.
Mrs Sweeting-Wilson, the Black Marlins Swim Club secretary, thanked CWCO for supporting the swim club's efforts.
"We appreciate the partnership and support of our sponsors like CWCO, and hope that we can make the partnership a longstanding one, which will help us to continue to encourage our swimmers to do their very best both athletically and academically, in a fun environment," she said.
The Black Marlins Swim Club is run by an executive board, made up of parents of swimmers from varying groups.
The swim club encourages its swimmers to not only enjoy the sport, but to succeed and push athletically as well as academically. Consolidated Water (Bahamas) Limited (CWCO) recently supported the Black Marlins Swim Club. Team members Caden Wells and Jake Thompson together brought home six gold medals and a silver medal following their participation in the CARIFTA Games hosted in Barbados.