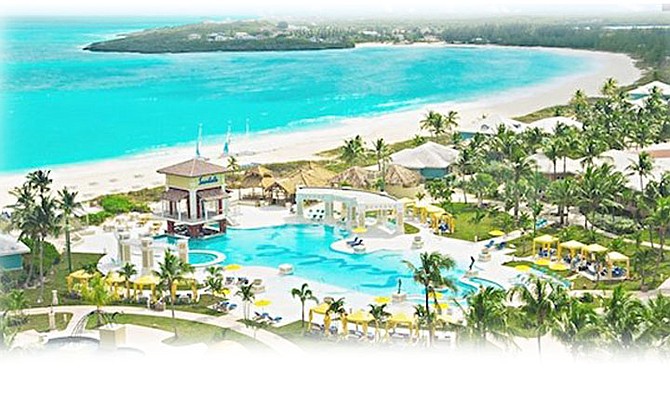 By KHRISNA RUSSELL
Tribune Chief Reporter
krussell@tribunemedia.net
CARBON monoxide poisoning was found to be the cause of death of three American tourists who were found at Sandals in Exuma earlier this month, The Tribune was told.
Reports detailing the cause of deaths of husband and wife Michael and Robbie Phillips along with Vincent Paul Chiarella are expected to be released in the coming days.
This comes after Royal Bahamas Police Force Commissioner Paul Rolle told The Tribune yesterday that authorities received results from samples sent to a lab in Philadelphia.
The commissioner directed that those results be sent to the local pathologist
EARLIER STORY:
By KHRISNA RUSSELL
Tribune Chief Reporter
krussell@tribunemedia.net
THE Royal Bahamas Police Force has received the results of samples that were sent abroad from three American tourists who were found dead at Sandals in Exuma, confirmed Commissioner of Police Paul Rolle yesterday.
The samples, extracted from each of the three victims, were sent to a lab in Philadelphia for analysis earlier this month.
Mr Rolle said he directed that those results be forwarded the local pathologist.
He said that when a cause of death is released to the police, he will first release to family members and then to the media.
The commissioner was unable to say whether relatives of the victims were granted permission to bring in a US pathologist to conduct another autopsy, saying this was outside of his remit.
 Earlier this month during a press conference Mr Rolle said samples were extracted from all of the persons "and our forensic scientists have collected those samples for examination.
 "We are actively engaging a lab in Philadelphia, Pennsylvania to assist us with expediting the toxicological examinations of all of these samples," he said at the time.
 "Once those examinations are done, our pathologist would be able to provide us with an official report as to the exact cause of death and help us to determine exactly what has happened.
"Our forensic scientists have also collected samples from both of the rooms and the properties of the Sandals hotel in Exuma to determine whether or not any contaminants are present."
Married Maryville, TN, couple Michael and Robbie Phillips and Vincent Paul Chiarella of Florida were found dead in two separate villas at Sandals on May 6 after they were stricken by an unknown illness.
Donnis Chiarella, wife of Paul, was the lone survivor.
Officials say the two men and one woman died sometime between 11pm on May 5 when they, along with the lone survivor, visited the clinic seeking medical attention for nausea and vomiting, and around 8.30am to 9am the next morning, when they were found dead in two separate villas.
Deputy Prime Minister Chester Cooper previously told reporters that autopsies of the American victims had already been completed. However, he noted the findings have not been released.
Following this, Health and Wellness Minister Dr Michael Darville said there were still some ongoing investigations at the resort, but that relatives wanted to bring in a pathologist.
"We also have the pathologist in (the) country who have done their job and samples were sent to a very reliable lab in the United States and a toxicology report was still outstanding."
"There was requests by family members of the deceased to bring in pathologists from abroad to do another autopsy because you know to move bodies across water, they have to be embalmed and so that request was made. I do not know exactly how far it has gone but we are willing to assist anyone who wants to get to the bottom of their loved ones and so those requests are being entertained but I'm not sure where they are at this point."