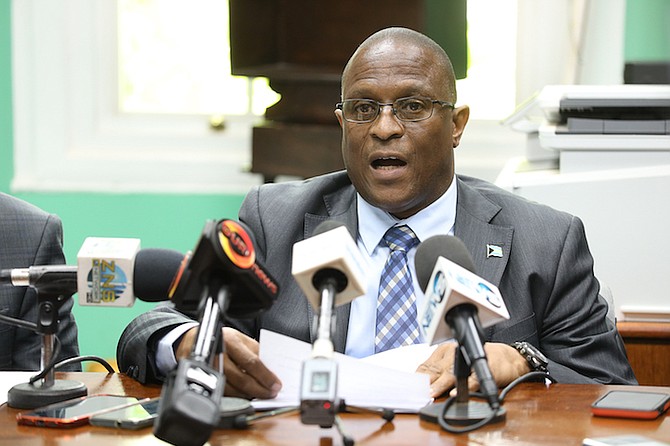 By EARYEL BOWLEG
Tribune Staff Reporter
ebowleg@tribunemedia.net
OFFICIAL Opposition Leader Michael Pintard was critical of Prime Minister Philip "Brave" Davis' budget presentation yesterday, saying it ought to have been about growth.
Mr Pintard was of the view that what was presented yesterday by Mr Davis did not follow what was laid out in his administration's fiscal strategy report.
"How will we grow the economy because even prior to Dorian there was a sluggish growth rate that was not adequate to absorb existing unemployment and as more students graduate, growing unemployment," he said during a press conference yesterday that followed Mr Davis' presentation.
"We've come through Dorian, we've come through COVID. The prime minister says they have a plan. That plan was outlined in the fiscal strategy report to some extent. They are presently not following that plan and so we want to understand what is the growth strategy of this administration. This budget should have provided us with a glimpse into that - unfortunately it didn't."
Mr Pintard listed issues that in his view were unsatisfactorily addressed in the budget and others that were left out.
"There were several concerns that we had as we listened and we listened to several priorities we thought that the government would address in a very poignant way. One of those priorities was the cost of living. It is at crisis level now and we fully expected the prime minister would've outlined a series of actions to address that issue.
"Secondly, there is a need for job creation given the fact that we've just come through a pandemic preceded by Dorian and even prior to that we had sluggish growth in the economy. We fully expect emerging out of COVID the government would've had a growth budget one that stimulates employment generation. The third priority that they would've addressed national security with a significant amount of debt.
"The Progressive Liberal Party came to office promising a New Day. Unfortunately, once again we have another demonstration of the fact that (the) government is in large measure out of touch with the tremendous hurt and pain that many Bahamians are experiencing and when given an opportunity to address it in terms of the priority of spending we do not believe it fully reflects their understanding. We believe in part this is due to a prime minister that, while quite busy, is inattentive to many of the details required for him to flesh out a growth budget and a plan of action to address unemployment and the serious level of crime and a healthcare system that is tremendously challenged."
Moreover, he questioned how the government would meet its revenue target as it is believed this budget has increased expenditure.
"One would recall that the government projected that it would earn $1.3bn - that's their revenue target. We have said previously we did not see how they would get to that pathway. This budget communication did not provide us with a road map on how they are going to get to the $1.3 billion that they projected. We don't believe the revenue enhancement strategies outlined will get them there. We don't believe that cost saving or cost cutting measures will get them there.
"In fact, this budget has gone up quite dramatically in terms of expenditure….so we have increase expenditure and again we don't see how revenue enhancing measures or cost cutting, which is very thin here, is going to get them to the revenue target and if they're not going to get to those revenue targets it begs the question on how they're going to handle existing or recurrent expenditure that we have in the country and projected developments that they have outlined in their plan."
Mr Pintard also talked about the concern of debt management as he stated the prime minister outlined a "substantial amount of funds" that the government plans to borrow.
"We would like to know to what extent has he or his team put in place measures to save us from the high interest rates that we are presently paying. We expected to hear in this budget concrete strategies on how he would better manage the debt of the country. Well obviously that is not the case. The global minimum tax initiative, again globally this is being accepted. This administration has indicated it is not at all at odds with it but again we have not heard in this budget a definitive movement in this direction."
He added: "We wonder to what extent has the government given serious consideration to how it will able to sustain and pay for some of the things that it has mentioned in this Budget. We saw no clear plan. We heard a significant amount of borrowing which came at the tail end in two resolutions but clearly within context the government did not explain how its intended high-level borrowing is going to impact the figures outlined in the Budget."
National Insurance Board is at risk of the funds being depleted if concrete actions are not taken, but felt this was not addressed by the government in the budget.
Mr Pintard also questioned the plan with regards to inflation, arguing the government had been short in outlining this. The opposition renewed their position on VAT applied to breadbasket items.
"In this budget that they are prepared… to change the rate of VAT on some items this now flies in the face of an earlier claim by the government that they thought it best to keep VAT at a consistent level across all commodities. So we now ask them in light of the fact that you found a way to be flexible in the application of VAT and the rate, why are you not taking VAT off the breadbasket items? Why are you not taking VAT off medicine and why are you not increasing it for the wealthy as it relates to transactions that are over $2m?"
Regarding public service increments, Mr Pintard said: "The increments he talked about in the public service, this is something that happens in the natural course of things and cases where increments have been paused it has been in the midst of crisis where there was a financial and governments did not see the ability to provide at the time it was due, but both administrations again have had moments where it's been paused and where it's been re-introduced. So we are happy that this is happening."