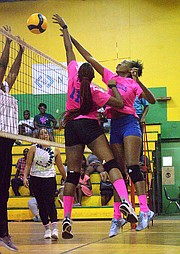 THE University of The Bahamas women's volleyball team just could not sustain a push against The Panthers in New Providence Volleyball Association action and fell to them in three sets - 25-20, 25-13 and 25-21.
The Mingoes started the first set off slow as The Panthers riddled off nine straight points to start the match. The Mingoes eventually broke serve and started to mount a comeback but the Panthers were just too strong for them and pulled out with the 25-20 set win. In the second set, The Mingoes were trying to keep it close but The Panthers again jumped out quickly to go up 17-9. Despite a strong service game in the set, The Mingoes lost 25-13.
The third set, The Mingoes were just about to hit their stride. The Mingoes started slow and stayed close at 16-11 and 19-14 but The Panthers held off another late surge to win the set 25-21.
Jada Coakley scored seven points (four kills) and Shanyhah Bowe scored five points (four kills) for The Mingoes in the loss.
Head Coach Raymond Wilson said he's seeing the improvement in the team across games. "We have to learn to capitalise on the free ball more though," he said. "The area that we really need to work on is that we have a characteristic that we allow a team to six and nine points and then playing from behind. When you are playing against experienced teams you cannot give them a head start of nine points."
Wilson added that the team has the capabilities but just needs to pull it all together.
"I feel that our team knows how to play and can play at this level," he said.
"But we have to learn how to side out quicker but all in all this was a better match and I see some good things and good promise.
"We just need to stay more consistent in playing our game."
The Mingoes now have an 0-2 record and are scheduled to play The Johnson Spikers 7:30pm tonight at The D.W. Davis Gymnasium.