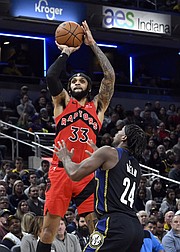 By RENALDO DORSETT
Tribune Sports Reporter
rdorsett@tribunemedia.net
CHAVANO "Buddy" Hield's sixth 20-point game of the year led the Indiana Pacers to a win on the road for what most NBA pundits have deemed a surprising start to the 2022-23 season.
Hield scored a team high 22 points and grabbed eight rebounds in the Pacers' 118- 104 win over the Toronto Raptors at Gainbridge Fieldhouse in Indianapolis, Indiana.
He shot 5-11 from beyond the arc, his seventh game this season with at least four three-point field goals made.
"Good team win, tough loss against Denver, and came showing fight," Hield said. "Shoutout to TJ [McConnell], Ben [Mathurin] those in for the second unit getting us over the hump."
With the win, the Pacers improved to 6-6, currently ranked sixth in the Eastern Conference.
After Toronto went ahead by 15 in the first minute of the third quarter, the Pacers went on a 20-6 run to get back into the game. "The game changed when our fight changed," Indiana coach Rick Carlisle said. "Every distraction you can imagine, we were coming up with some reason to complain about something in the first half. It was ugly. It's not the culture we are building. The second half looked like us. It's a win that feels good."
Hield, who recently signed a multi-year shoe deal extension with Nike, is averaging 18.7 points, 5.5 rebounds and 3.2 assists per game. He is also shooting 47 percent from the field, 41 percent from three-point range and 87 percent from the free throw line.
Hield ranks second in the league in three-point field goals made with 49 behind Steph Curry of the Golden State Warriors with 59.
The Pacers are one of the youngest teams in the NBA with an average age of just over 24. "This is a new era, an official new era of Pacers basketball. It's certainly a direction of youth," Carlisle said. "It's a direction of going all-in on a group of guys that are young, talented, of extremely high character and tremendous upside."
Hield, one of the elder statesmen on the team at 29, encourages the youth movement led by franchise point guard Tyrese Haliburton and rising star Benedict Mathurin, who has emerged as an early Rookie of the Year candidate.
"I just think when you bring in a bunch of good guys that have great personalities and great fits and understand and like each other it's easy to have a great vibe," Hield said.
"I think the guys we have in the locker room are guys that love each other already and are guys that want to grow and learn and have fun playing with each other."
Hield and the Pacers will face Kai Jones and the Charlotte Hornets at Spectrum Center in Charlotte, North Carolina, on Wednesday, November 16.