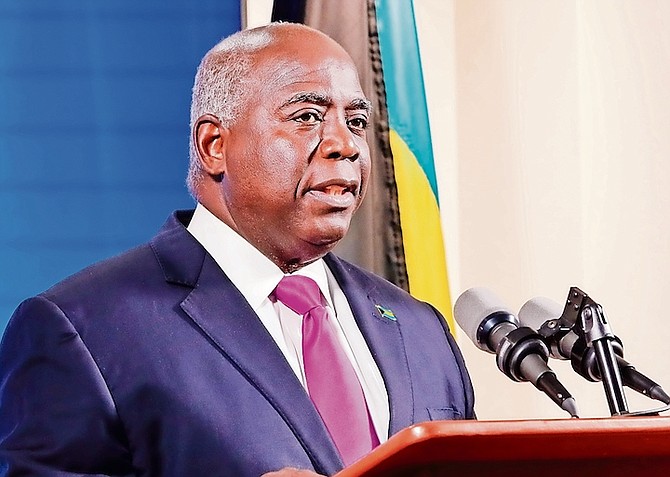 By LEANDRA ROLLE
Tribune Staff Reporter
lrolle@tribunemedia.net
PRIME Minister Phillip "Brave" Davis said he doesn't believe the country's crime rate will affect the nation's tourism product, despite continued warnings for American citizens to "exercise increased caution" in The Bahamas due to crime.
Mr Davis was asked yesterday if he was concerned about the issue after the Bahamas Hotel and Tourism Association's (BHTA) president called for a more aggressive and unified approach by all members of society to combat crime, noting its impact on the country's leading industry.
"I don't think our crime rate would because it's a contained issue that we have with crime, and hopefully, we are dealing with it effectively. Hence, I don't think you would see any downturn on tourism because of that," Prime Minister Davis told reporters at Baha Mar yesterday.
This comes as the country continues to see an increase in armed robberies and homicides, with the murder count now at 107, according to this newspaper's records.
In a press statement released on Friday, Robert "Sandy" Sands, BHTA's president, said while crime is recognised as a "global ailment," small island nations like The Bahamas, which are heavily reliant on tourism, can be seriously affected if the vexing problem persists.
"The impact of crime left unabated is an absolute threat to our nation's tourism product and to society," he said.
"We must work assiduously and immediately stamp out the glowing embers that are threatening to 'run hot' in our country. We must enhance efforts to combat crime collectively.
"We in the tourism industry have a saying, tourism is in everybody's business, so is crime. I cannot emphasise that enough. We must unite in the fight against crime."
Mr Sands further questioned how people can be the best version of themselves "when we just lost someone we love because of crime".
He continued: "Crime at any level is insidious as it is dangerous. We have seen what rampant crime can do to countries who have had to deploy extreme highly visible public safety measures to cauterise criminal activity."
He also said the body is looking forward to continuing to work with the government, law enforcement, tourism stakeholders and civil society at large to crack down on crime.
On Wednesday, the US State Department updated its travel advisory for The Bahamas to include new health information.
The advisory maintains its level two security alert for Americans in The Bahamas, which advises residents to exercise increased caution due to crime.
The alert lists New Providence and Grand Bahama as the islands where most of the nation's crimes occur and repeat previous warnings for Americans when travelling in certain communities.
"In Nassau, practice increased vigilance in the 'Over the Hill' area (south of Shirley Street) where gang-on-gang violence has resulted in a high homicide rate primarily affecting the local population," the advisory reads.
"Violent crime, such as burglaries, armed robberies, and sexual assaults, occur in both tourist and non-tourist areas. Be vigilant when staying at short-term vacation rental properties where private security companies do not have a presence."
The alert also cautions American visitors of getting involved in commercial recreational water sports, including tours, warning that watercraft are not consistently regulated and may in some cases be poorly maintained.
Some operators may not have the proper safety certifications, the advisory adds.