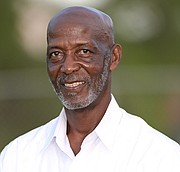 FOSTER Dorsett, who served formally as president and vice president of the Bahamas Association of Athletic Associations, has agreed to return to seek another term in office as a first vice president.
Dorsett, a former athlete and present coach of the T Bird Flyers track and field Club, said he's presenting himself as a hard-working administrator with a vast amount of experience in the field of technical and vocational education (T&V) when the BAAA holds its election of officers on Saturday, December 3. "I held the posts of senior education officer and also acting assistant director for T&V of The Ministry of Education," Dorsett said.
"I was born on the beautiful island of Exuma, and my background has proven that not only am I people oriented but my expertise is such that make me qualified to serve as an executive team member.
"Therefore, I am pleased to submit myself as a candidate for the 1st vice president position of the upcoming BAAA elections. I have also served as president and vice president of the BAAA.
In the role of vice president, for many years, I held the board's "foot to the fire" and ensured they followed the federation's written constitution.
"As a candidate for 1st vice president, I appeal for your support in order that I can continue to ensure the goals and objectives of this great federation are paramount."
Dorsett is not expected to run on any slate, but indicated that if elected, he will be prepared to work with whoever is selected as the next president of the BAAA.