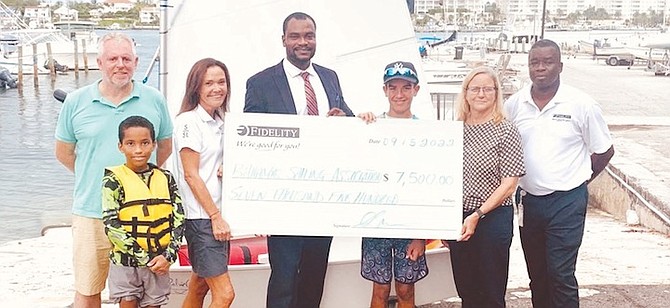 FIDELITY Bank (Bahamas) Ltd. has donated generous sponsorship to The Bahamas Sailing Association to support this year's Optimist National Championship, the largest national junior event on the country's sailing calendar.
Based on Fidelity's guiding philosophy of "We're Good For You", their donations committee's primary goal is to contribute to the creation and maintenance of educational and vocational opportunities for youth in The Bahamas, giving away thousands of dollars each year to activities which support community and youth development and improve the socio-economic conditions of Bahamians.
The event will be hosted by The Nassau Yacht Club September 30 to October 2.
This annual regatta is held at a different island location each year with young sailors aged eight to 15 years old coming together from throughout the country to sail in the iconic little Optimist boat. This year the expected participation is set to be around 90 children.
The Sailing Association is particularly excited to be welcoming back sailors from Hope Town and Freeport, their first visit since the ravages of Hurricane Dorian destroyed their sailing clubs, boats and equipment.
Other contingents are heading to Nassau from Eleuthera, Exuma and Harbour Island to race against their New Providence-based rivals.
As this is an "open" championship, non-Bahamians are welcome to compete and, to this end, there are a number of children from the United States oming to the event.
All participants receive medals, the top finishers in each fleet receive trophies and the top-placed Bahamian sailor will receive the prestigious Geoffrey Holowesko Perpetual Trophy and be awarded the national title.
The organising committee wishes to also thank JS Johnson, which has continued to support numerous events and junior sailing programmes and initiatives over the years and have also given a generous contribution towards financing this championship.
Thanks also goes to several other businesses for donating products, including Aquapure, Home Fabrics, Thompson Trading, Panama Jack, Sands Beer, Abaco Big Bird and the Nassau Yacht Club, who are providing all the food throughout the weekend at a substantially reduced cost for the sailors and their entourages.
As non-profit organisations, the Bahamas Sailing Association and the Bahamas National Sailing School cannot run events such as this without the support of sponsorship and the assistance of many volunteers.
Emma Tinkler, event chairperson, believes this year's Optimist National Championship will be a huge success thanks to all who are working tirelessly to make it happen.
Watch out for the action in Montagu Bay next weekend.