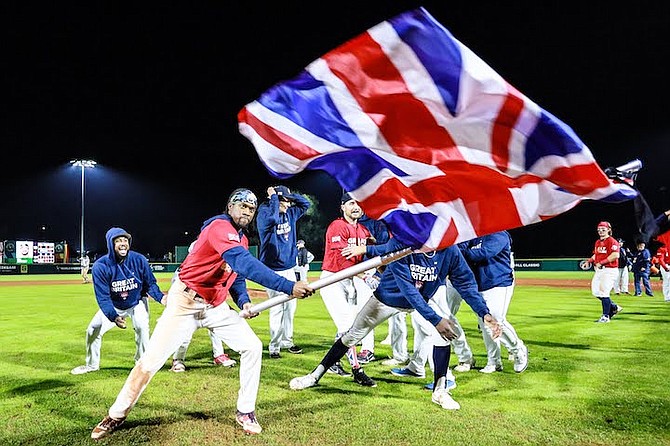 By RENALDO DORSETT
Tribune Sports Reporter
rdorsett@tribunemedia.net
BAHAMIAN players emerged as breakout stars for Team Great Britain en route to the country's first-ever qualification for the World Baseball Classic.
Veteran outfielder Anfernee Seymour led the tournament in several offensive categories while D'Shawn Knowles had one of the team's best offensive performances in the finale in Regensburg, Germany.
Seymour recorded the most hits (seven), runs (six), stolen bases (five), and was only one of two players in the tournament to record a triple. He also finished tied for fifth in the tournament with five RBI and hit .583, with a .643 slugging percentage and 1.393 OPS.
Knowles finished the qualifiers tied for third with six hits, four runs scored, one home run and four RBI.
He hit .500, with an .833 slugging percentage, .800 OBP, and 1.000 OPS.
Great Britain manager Drew Spencer said his roster - with 10 affiliated players currently in minor league baseball or independent clubs - was built to make history for the programme after years of coming up short.
"The goal from the beginning was to create a mindset that it's no longer ok to be average. We wanted to win ballgames, but more importantly to win in the infinite game," he said. "I couldn't be more grateful to everyone who bought in. Fearless. Selfless. Relentless."
Seymour, who quickly became a fan favourite for his exuberant personality and play-making ability on the basepaths, led the postgame team celebrations when he raced around the field with the Union Jack and planted the flag pole near home plate.
Seymour spent his season in the Atlantic League of Professional Baseball with the Charleston Dirty Birds and briefly with the Long Island Ducks.
In eight games with the Ducks, Seymour hit .276 with a .783 OPS, eight hits, seven runs scored, seven RBI, and three stolen bases.
In 79 games with the Dirty Birds he led the club with 24 stolen bases and 18 doubles.
He also ranked second on the team with 50 runs scored, a .253 batting average, 75 hits, slugging .387 with a .317 OBP. He also had a .704 OPS with six home runs and 36 RBI.
Knowles, the Los Angeles Angels prospect, spent his season across the Low A (Inland Empire 66ers) and High A (Tri City Dust Devils) levels.
He led the 66ers with a .331 batting average, 23 RBI, an .889 OPS and nine stolen bases in his second season assigned to the club. With the Dust Devils, he hit .234 with 26 RBI, 13 stolen bases, 44 runs and 75 hits.
Great Britain is currently ranked at no.23 in the World Baseball Softball Confederation team rankings.
The Great Britain roster included outfielders Seymour, Knowles, pitchers Tahnaj Thomas and Chavez Fernander, catcher Ural Forbes and Albert Cartwright as a member of the coaching staff.
Cartwright has served as the first base coach throughout the tournament.
GB opened the tournament with a 14-4 win over no. 22 France in a game that was stopped after eight innings due to the 10-run mercy rule.
Seymour went 3-5 with 3 RBI and scored three runs. Knowles went 1-3 with an RBI and scored two runs.
Britain scored in each of the final six innings. Every Great Britain starter reached base at least once, and all but one had at least one hit.
In game two, Seymour and Knowles continued their production at the plate, while both pitchers saw action in relief duty. Great Britain scored an 8-1 win over the host country Germany to advance to the first place game.
Seymour finished 2-4 with two RBI and scored two runs with a stolen base while Knowles was 2-4 with a stolen base.
Fernander took the mound in the eighth inning and recorded one strikeout. Thomas closed out the game in the ninth inning and also recorded a strikeout. Six Great Britain pitchers held Germany to just one run on four hits. The game went into a rain delay during the top of the fifth inning with Great Britain leading 3-1.
Once play resumed, they added five more runs, including Seymour's two-run triple.
In the finale, Great Britain trailed for nine innings and overcame a five-run deficit to defeat Spain 10-9 in extra innings. Knowles had his best game of the tournament, powered by his two-run home run in the seventh inning. He finished 3-5 with three RBI and two runs scored. Seymour went 2-3 and scored two runs with two stolen bases.
Thomas shut out Spain in the top half of the 10th inning on the mound.