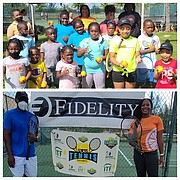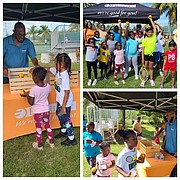 THE "Play Tennis Bahamas" programme resumed on Saturday at the National Tennis Centre where kids ages five to 17 years old were instructed in tennis.
This programme, which has been instrumental in starting many tennis journeys, continues to be a catalyst for the development and growth for The Bahamas Lawn Tennis Association (BLTA).
In order to provide easy access to the sport that is sometimes considered exclusive, the requirement to pay for tennis lessons has been removed.
The programme only requires an admin fee of $1 and all tennis equipment is provided and tennis instructions are given at no cost. We are able to offer these free sessions due to the volunteerism of tennis coaches, juniors and players.
The BLTA expressed thanks to those in the tennis community who continue to put service above self.
The organisation also asked persons who wish to assist in the programme in any way to email pr@blta. net or join us on Saturdays at 9am at the National Tennis Centre. The programme is expected to run for 6-8 weeks and will serve to introduce youngsters to the sport and hopefully start a fire for further tennis pursuits.
Last Saturday's session was sponsored by Fidelity Bank & Trust.
The BLTA expressed thanks for the support of Fidelity as they continue reaching the kids in the wider community. Under their motto "We're Good for you", Fidelity provided oranges and water for the participants and coaches.
BLTA president Perry Newton extended his thanks to the Fidelity team who has partnered with the BLTA in this community-geared programme.
He stated : "The programme has recorded the participation of hundreds of children over the years and we know sports is a positive medium for the youth. We will never find those tennis diamonds if we do not offer these sessions to the wider population. We hope that many take advantage of these free sessions."
The next session of Play Tennis Bahamas will be held at 9am on September 24.
New entrants are asked to register via email at pr@ blta.net and to come out on Saturday at 8:45am to sign in. There are also wonderful opportunities for adults to learn the sport - tennis is a sport for all ages. Racquets will be provided and players are required to wear tennis shoes on the court.
The sport is open to all, and the BLTA seeks to remove the barriers to entry and we welcome persons to join in and play tennis.
It is our hope that every child who wishes to learn tennis will have the opportunity through this programme to pick up a racquet and play tennis. We will continue to foster tennis development in the community as we are not only building tennis players but also building a stronger nation.