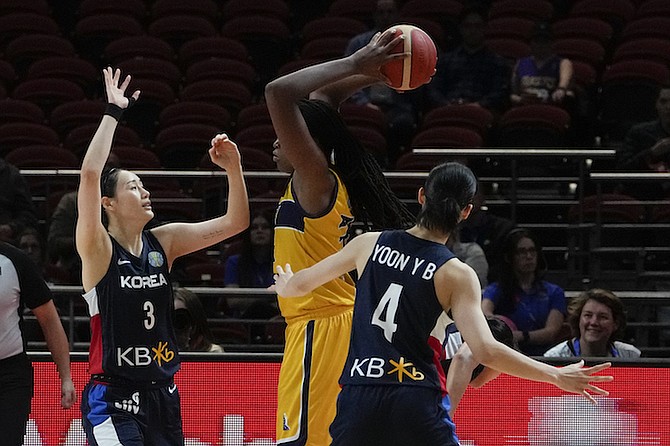 By RENALDO DORSETT
Tribune Sports Reporter
rdorsett@tribunemedia.net
Jonquel Jones and her Bosnia and Herzegovina (BIH) side remain winless thus far at the FIBA Women's Basketball World Cup.
Despite the team's struggles, Jones has been a leader across several offensive categories as competition continues among the top 12 women's national teams in the world at the tournament in Sydney, Australia.
Jones has averaged 15.3 points, 8.3 rebounds and 2.7 assists per game - all team leads - through four contests. She opened the tournament with 15 points, eight rebounds and four assists in an 82-58 loss to Puerto Rico.
In game two, Jones posted 17 points, nine rebounds and two assists in a 98-51 loss to China.
In a 99-66 loss to Korea, she finished just shy of a double double once again with 21 points, nine rebounds and two assists. She had a tournament low eight points and seven rebounds in last night's 85-55 loss to Belgium.
BIH will conclude play in Group A against the USA on Tuesday.
At the end of the Group Phase, the top four teams of each group will advance to the Final Phase. A draw will determine the pairings of the Quarter-Finals. The two best-ranked teams of each group (group A and group B) will be drawn against the two teams ranked third and fourth of the other group.
After Jones led the BIH programme's historic first ever appearance at the event, FIBA's analysis of the first matches of the group stage lists the team's as one of the tournament's surprises thus far.
"Perhaps you can file Bosnia and Herzegovina as the biggest disappointment by far. What was a fairytale first-ever appearance at the event was supposed to be followed by at least two wins - against Puerto Rico and then Korea. But that fairytale morphed into an intense nightmare with not just two losses to their group rivals, but really poor losses," the analysis said. "What we learned is that you can have one of the female game's best ballers in your team like Jonquel Jones, but it means nothing if you don't play defence and miss wide open layups constantly when opponents are double-teaming her."
Jones delivered a series of spectacular performances en route to leading BIH to World Cup 2022 qualification.
She led BIH to a 1-1 record and was named TISSOT MVP and a member of the All-Tournament team at the World Cup Qualifying Tournament last February in Osaka, Japan.
She averaged 25.5 points, 10.5 rebounds and 4.5 assists per game while shooting 52 percent from the field and 44 percent from three.
Jones also led BIH to an historic fifth-place finish at Women's EuroBasket 2021 and continued that dominance at the Eurobasket 2023 Qualifiers.