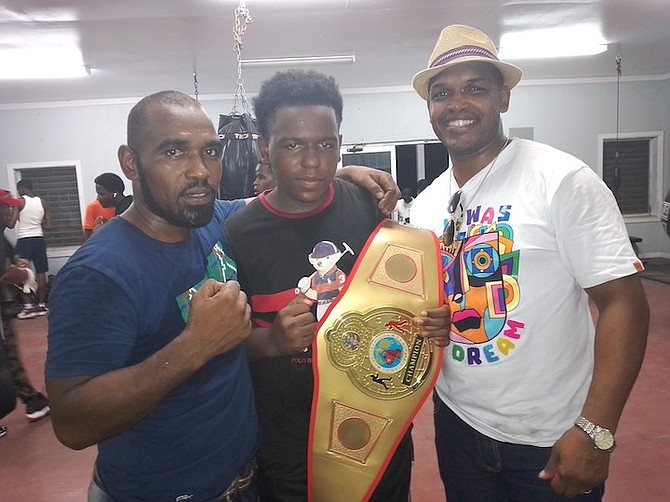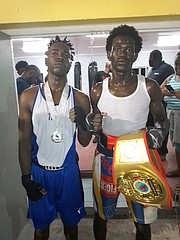 By BRENT STUBBS
Senior Sports Reporter
bstubbs@tribunemedia.net
THE inaugural Frederick Sturrup Boxing Show on Saturday night saw a brief relief of Meacher 'Major Pain' Major, a full recovery of Tyrone Oliver and the emergence of some bright young stars, led by Maleko Davis.
The show, hosted by Major Pain Boxing Club at the National Boxing Gymnasium, was designed to honour Sturrup for his longevity as an administrator in the sport and to showcase some of the local amateur talent in the country.
Major, a former amateur and professional champion, also took the opportunity to display some of his past skills in the ring in a three-round exhibition bout with Anthony "Psycho' Woods, while Oliver connected with Ronald Johnson in another exhibition.
Back for the first time in the ring in three and-a-half years since he moved to Buffalo, New York, to enjoy his retirement, Major said he got a good return to the ring as Woods greeted him with a right to the head that rocked him early in the first round.
"That was what I needed. After that punch, my instincts started to kick in. Is this an exhibition or a fight," Major said. "I was just happy that it was an exhibition because Psycho always brings that energy. He's always in the gym training. That's why I chose him because he's always going to entertain the fans."
Woods, 35, said he stays ready for whenever he gets the call to get back in the ring.
"I wasn't tired, but I tried to come out early and take it to him because I knew Meacher still had it in him," Woods said. "I came to fight, but I knew I was going to need all of my energy to be in the fight. It was a good one."
The show was a dual purpose for the 39-year-old Major, who has put his name in the hat for the presidency of the Bahamas Amateur Boxing Federation whenever the elections take place this year. He said his goal was to provide an opportunity to help revive the sport and, at the same time, honour one of the stalwarts in Sturrup, who has been a big supporter of him and a number of boxers throughout their careers.
"I appreciate the honour. I think Meacher Major and his associates have done a wonderful job for me," said Sturrup, a renowned journalist now operating out of Grand Bahama. "It's been a very long journey for me from 1968 to now."
"We started this amateur boxing programme in 1968 with seven guys. The thrust behind it all was Bert Perry and Charlie Major Sr. Unfortunately, only myself and Amos Ferguson out of the group are alive, so it's very nostalgic for me."
Sturrup, who also now serves as the chairman of the Bahamas Boxing Commission, said he's still pleased to see people like Major, Reno Johnson, Vincent Strachan, Alvin Sargent and Pat 'the Centreville Assassin' Strachan still actively involved in the sport. "While I really appreciate this gesture, it's always good when people compliment you, but it's always equally important when you see the continuation of the sport and people who are still waiting to take boxing into the future."
After a two-year hiatus coming off a near life-ending stabbing injury, Oliver was listed prior to the COVID-19 pandemic as one of the top boxers to watch in the future.
He said he was just delighted to be able to do what he loves doing and that is box.
He put on an exhibition show against Ronald Johnson, but said it was all about displaying his talent once gain.
"I didn't know how my career would turn after the stabbing," said Oliver, who is now working in Exuma. "It was a major turnaround and I think it was my faith in God that made the difference in me being out here again."
Maleko Davis, a 17-year-old student at the Bahamas Vocational and Technical Institute, was so impressive against Lavardo Collie of the South Side Boxing Club that he earned him the most valuable boxer of the show.
He said his goal is to become the next best fighter to come out of Kemp Road after his idol Major.
"I am trying to every day, so whoever comes in the ring, I am going to keep knocking them down," said Davis, who remains undefeated at 15-0.
"This was a tough competitor. I didn't knock him down, but I am just waiting on the next fighter."
South Side Boxing Club's Brandon Johnson Jr, the son of Brandon Johnson Sr and nephew of Taureano 'Reno' Johnson, was named the most Improved Boxer after he stopped Bimini's Aladdin Ellis in the first round.
"It was a very wonderful opportunity to step into the ring. There's a lot of things I want to show the Bahamian people," said the 14-year-old light heavyweight who is in the ninth grade at CV Bethel Senior High.
"Hopefully one day I can turn pro and represent the Bahamas and show them that Warriors come from the Bahamas.
"It wasn't really a challenge for me. I appreciate my daddy and my coaches and everybody who came out and supported me and even those people who didn't support me. The one person who made this possible was God and so I want to thank my daddy, Brandon Johnson Sr for his support."
Michael Stubbs, an 18-year-old graduate from CV Bethel who is also from South Side Boxing Club, made a successful debut with his win over Chris Larimore from Major Pain Boxing Club. Stubbs said he only accepted the challenge in a two-day notice.
"I figured I could have done better, but next time I will be much more prepared," said Stubbs. "I have to work on everything, so I'm going back into the gym and get better. I could have finished the fight in the first round. I am happy that I won."
Also, John Saint Surin of Major Pain shocked Eric Williams of After Shock Boxing Club in an thrilling heavyweight bout to end the night.
Major thanked former boxer Alpachino Allen and Kato Ferguson, another outstanding former amateur/pro fighter, for organising the show and keeping his Major Pain Boxing Club alive in his absence.
Ferguson also honoured his mother on her birthday Saturday night.