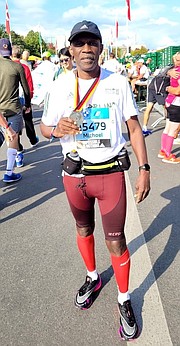 MICHAEL Cunningham, one of the country's top Roadmasters competitors, lowered his personal best time by 18 minutes as he competed in the Berlin Marathon on September 25.
Cunningham, participating in one of the six major marathons in the world, finished in 78th place in his age group category and in the process qualified for the prestigious Boston Marathon.
Cunningham stated that the conditions were perfect for his lifetime achievement as Eliud Kipchoge went on to break his own world record with a time of 2hrs 1 min 9 secs. The event attracted more than 41,000 competitors.
Through the Bahamas Roadmasters Club, which serves as the vice president, Cunningham said he was able to prepare himself for his latest feat in Berlin.
The businessman and chartered accountant, who is also an active member of his church, said he had to find the time to train at 4:30am in the morning and maintains a healthy food regimen.
Cunningham's next event is the Chicago Marathon on October 9 when he will travel along with 21 members from the Bahamas Roadmasters Club to compete.