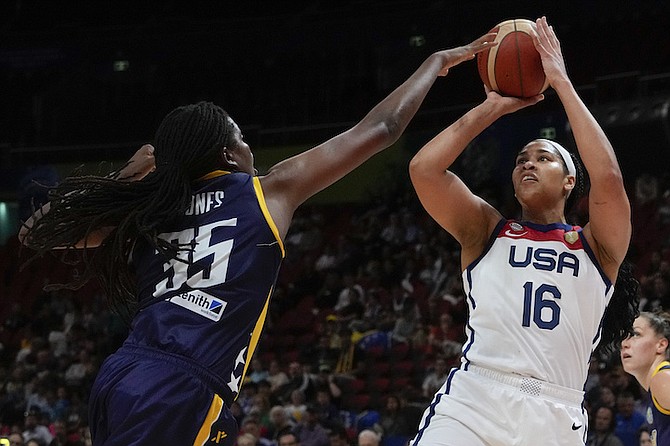 By RENALDO DORSETT
Tribune Sports Reporter
rdorsett@tribunemedia.net
A marathon season for Jonquel Jones came to an end in the quarterfinals of the FIBA World Cup in Sydney, Australia.
Jones led Bosnia and Herzegovina in several categories on both ends of the floor but her team was eliminated following the group phase.
Jones finished with averages of 13.6 points, 8.8 rebounds and two assists per game on 50 percent shooting from the field.
"Praise God for keeping me healthy during this crazy time. Man I'm so thankful for this break. Your girl didn't have anymore gas left in the tank. FIBA, WNBA for the sake of the players please try to find some common ground. These last two weeks were crazy!"
Just days after her WNBA season came to an end in the Finals, Jones returned to international play with BIH at the World Cup in Sydney, Australia.
It was the culmination of international appearances this year highlighted by leading BIH to their historic World Cup 2022 qualification.
She was named TISSOT MVP and a member of the All-Tournament team at the World Cup Qualifying Tournament last February in Osaka, Japan when she averaged 25.5 points, 10.5 rebounds, and 4.5 assists per game while shooting 52 percent from the field and 44 percent from three.
Jones' 2022 season began in Europe where she traditionally spends the offseason with Russian Premier League powerhouse - UMMC Ekaterinburg.
In 11 EuroLeague games, she averaged a team leading 17.1 points, 9.1 rebounds, 2.3 assists, and 1.1 blocks per game.
The Foxes were favoured to repeat as Euro League champions for the seventh consecutive year.
Jones led the club to an undefeated Euro League regular season record and the top overall seed in the league at 4-0.
Her campaign in Europe ended abruptly due to the Russian-Ukranian conflict and Jones left the country in March.
Russia has been the preferred offseason destination of many of the league's stars, but many of them are opting for other locations amid Brittney Griner's highly publicised imprisonment in the country.
Griner was Jones' teammate with UMMC and will play in Turkey this upcoming offseason with CBK Mersin of the Women's Basketball Super League.
In May, she returned to the WNBA and the Connecticut Sun to begin the 2022 season following her 2021 MVP campaign.
The 2022 season ended on a disappointing note for Jonquel Jones and her Connecticut Sun last Sunday when they were defeated by the Las Vegas Aces 78-71 in game four of the WNBA Finals.
Jones had a 2022 season to remember filled with accolades. She was named to the All-WNBA Second Team, the All Defensive Second Team, and received her fourth WNBA All-Star selection, voted a starter for a third time.
Jones led the Sun in points (14.6), rebounds (8.6) and blocks (1.2) per game. Jones hit a plethora of career milestones this season, moving into first all-time in blocks (270), third all-time in rebounds (1,633) and sixth all-time in points (2,657) in Connecticut Sun franchise history.